The first time I spoke to Jose Luis Martinez , Director of Communications for the Foundation for the Human Rights in Cuba (FHRCuba) sometime in late October 2013 for kicking off the project, I was amazed of how much of an optimist he was. Always animated and eager to answer questions, Jose carries the perfect vibe to lead the communications initiatives for the foundation.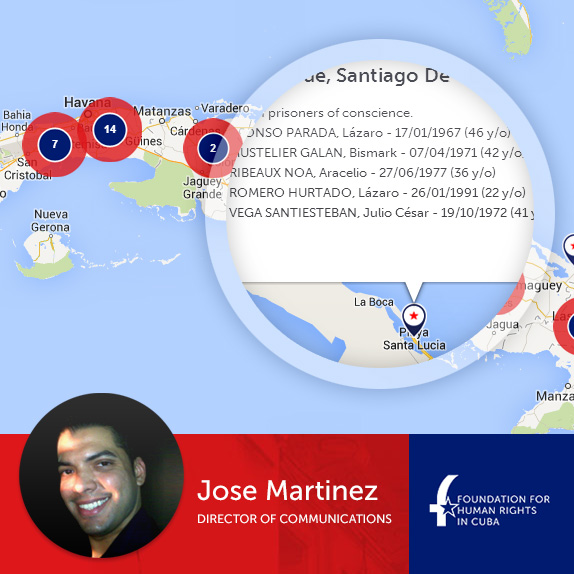 When you have the chance to change the world, you can't just sit around and not do anything about it.
Having launched the Foundation's website and its Connect Cuba landing page earlier this year, we thought it would be a great idea to talk to Jose – just to follow up on how the new website has helped the Foundation in reaching its objective and also for a little chat about changing the world – which has been really really inspiring!
Hi Jose, it's good to see you! We could not be even more excited and so proud to be able to work with FHRCuba for the implementation of the new website. On behalf of Stampede, I'd like to extend the gratitude of the entire team for having us. Could you tell us further about FHRCuba and what is your role at the foundation?

Hi Zana, it's great to see you too! It had been exciting on our side as well. Thank you so much for all the hard work. To answer the first question, the Foundation for the Human Rights in Cuba, or FHRCuba for short, is created with the mission to empower the Cuban civil society with open, uncensored access to the Internet and the ability to communicate freely with each other and the world.

Towards this positive change, we work with the members of the Cuban civil society to brief them about their basic human rights, which is outlined by The United Nations. It is this international standard of how every human being is supposed to be treated and that is the thing that everyone needs to be enlightened about.

I am the Director of Communications at the Foundation. My role is basically is to manage everything communications-wise, from press release to elevating the awareness through various methods of social media, fundraising and many more. It is the least of things I could do to participate in the change in Cuba.

You see, when you have the chance to change the world, you can't just sit around and not do anything about it.

How true, and that is very inspiring. Jose, when you mention about basic human rights, could you tell us how is FHRCuba reaching to the civil society to make them aware of these rights? Any organisations you are working with?

Certainly. We work with a lot of organisations through a number of activism initiatives. These organisations include Ladies in White, Cuban Patriotic Union (UNPACU) and also individuals such as the blogger Yoani Sánchez.

Yoani Sánchez is a Cuban blogger who has achieved international fame and multiple international awards for her critical portrayal of life in Cuba under its current government.

We narrow down these activism initiatives into four areas of focus:

Artivism and culture, where we help Cubans rebuild the social and cultural fabric of Cuban communities and values.

Humanitarian and social disaster, where we provide humanitarian assistance and relief to the people of Cuba in times of need but also provides outreach services to communities throughout Cuba on an as-requested basis from Cuban partners.

Human rights defenders, where we provide assistance for communication and domestic transportation, medical issues related to the work as human rights defenders, training workshops, general operating costs and event international travel expenses.

Prisoners of Conscience, where we provide awareness of the locations of these large numbers of individuals in prison for their individual beliefs or actions, including nonviolent acts of civil disobedience. You can also view these individuals in the Human Rights Tracker map in the new website.

We have recently launched the Connect Cuba campaign where, also, with the help of your team, we built a website which includes the functions of online donations, petitions, online store and social media to spread the word.

So the rebranding of the new FHRCuba website, is this because of the Connect Cuba campaign?

Nope, that is just in addition to that.

In general, our activists have traveled all across the world in order for our voices to be heard. Our activists, including Yoani Sánchez would need better access to the Internet and better ways to communicate. We believe the online space is the perfect medium and will have the potential to make Cuba more connected. The online space also appeals more to younger generation.

Hence, the rebranding could help in carrying these voices further and more amplified.

So proud to be part of the team that has helped amplifying these voices of freedom!

All right, as we can see the new website now support online donations and petitions along with geo-located maps of Cuban activists and their respective human rights efforts. So, how has these new features in the website helped in reaching the foundation's objective in empowering the Cuban civil society with the ability to communicate freely with the world?

Good question. From the visual standpoint, the new website now shows a whole new updated, much more contemporary look, of course.

I must say that the interactive human rights tracker map actually changes a lot of perspective. Before this, people do not have much idea of what is going on even though there is a whole loads of activities organised by the Foundation. It seemed small and contained.

Now with the map showing every single activity, people finally have the whole bird's eye view on it. There are 11,000 people on the island, and every single one of us is willing to go out and come together to exercise our rights as the Cuban civil society. Now everyone could see what is going on.

If you must know, the map is also our programmer, Shaiful's favourite – as this was his first Google Map integration and he learned a lot from it while on the job.

That is great to hear! Tell him that is also my favourite feature on the website.

I will! As you can see, we are so thrilled to be given the chance to participate in the rebranding exercise of the website. What brings to the decision of engaging Stampede as the web development company responsible for it?

Well, we first scouted a number of local agencies in California and also Miami. You guys were referred to us via a mutual client, and after a few proposals we discovered that Stampede has the best approach in coming up with solutions for our web development needs for this rebranding exercise.

And how has the experience working with us been so far? Hopefully not negative…

Actually not at all! I am happy to be able to work with such an awesome team like Stampede. Communications had been fast and reliable – and you guys are always giving the best advice in terms of web design and development. The experience has been positive overall.

That is wonderful! The feeling is mutual, Jose. We are so glad to be able to work with you and your team too.

Again, on behalf of Stampede I am thrilled we are to be able to work with the FHRCuba. Thank you again for making time for this interview.

My pleasure. Have a great day!
The website for the Foundation for Human Rights in Cuba (FHRCuba), packed with features such as online donations, online petitions and the Human Rights Tracker map was successfully launched early this year.
For more information on FHRCuba, follow them on Facebook, Twitter and Youtube.