We're looking for UI/UX designers of various levels to craft engaging and well-designed digital products and experiences.
Permanent
Remote
Malaysian
Full-time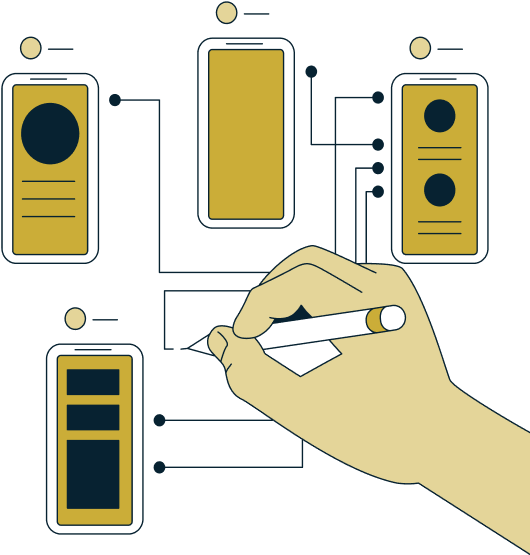 What you will do
Your role as a UI/UX Designer at Stampede will entail ideating, producing, validating and delivering successful digital products and services in the following capacity.
Visual & interaction design
You will be taking our UX strategy and translating it into UI design, working closely with our design, business and tech teams to deliver high-fidelity user interfaces that are elegant, useful and feasible. You'll start by understanding the user, designing the information they need, then producing compelling visuals and engaging interactions that will become the highlight of their experience. Your canvas will include mobile and web applications as well as responsive websites. Sometimes, TV too.
As an extension to brand guidelines, the creation and management of cohesive design patterns and design systems will be a crucial aspect of your role. You get to ensure the application of consistent design language across a single product or a constellation of systems, and your work would influence how other designers do theirs.
Problem-solving
You will be designing for businesses and teams with high appreciation for UX. Here you will learn how to untangle the chaos and uncertainty in problem space and lead a focused and purpose-driven execution of design solution. Joining our design sprints, you get to be part of the team that deliver critical product answers in 5 days. You will spend less time getting buy in and more time doing real design work. The craftsperson in you will like that a lot.
Design validation
We're no good designers if we don't measure whether our solution worked. You wouldn't miss the chance to do that either. Testing, heuristic analysis and accessibility are second nature to Stampede designers. Every test session will be thoroughly done, findings crunched and recommendations implemented. At the end of the day, you will be handing over the product to the delivery team, confident in the validity of your design solution, thanks to data from the user.
UX design
As you delve deeper into your UI craft, UX research quickly becomes a critical skill in your toolbox. You will be speaking directly with the users to gain good insights of the problems they face, and then you get to solve it for them. In Stampede, you will get to experience the whole gamut of UX design process, including qualitative and quantitative research, UX audit, design sprint, information design, usability testing and service design. These skillsets would complement your UI design well, making you a highly effective and versatile designer.
Key requirements
Relevant academic qualifications in Design, IT, Engineering or related fields
Good technical design skill, knowledge and attention to detail
Prior experience as a UI/UX Designer
Strong case study and portfolio of related projects
Proficient in design and prototyping tools (specifically Figma or XD)
Excellent communication skills and clear articulation of ideas, design rationale and recommendations
Strong and capable team player with track record of effective collaboration with people from other disciplines and multiple stakeholders
Basic front-end development (HTML, CSS and JavaScript) skills are a plus
NOW ABOUT THAT CASE STUDY…
A case study helps you show us how you solve a problem from start to completion. It outlines the problem, shows your solution, and explains your approach. Good case studies usually share the following structure:
The Problem
A background of the problem and the project goal
The User
Who is facing this problem and what value will it give them if solved
The Solution
Your proposed solution and an explanation of how it solves the problem.
The Process
An unpacking of what you did to arrive at the solution e.g. user interview, wireframes, UI design, testing etc
The Learnings
What went well and what can be improved
TIPS
Here are several tips to help you craft that case study well:
Choose one project that shows your best design work
Take the time to share why this project is of interest to you
Write for your reader – they may not have preliminary information about the project so walk them through it
Write as clearly as possible and in your own voice
Caption your images so we know what we're looking at
Show the work-in-progress – your sketches, wireframes, user interview notes etc
If it takes teamwork, give credit and explain your role
Share your key takeaways and learnings – mistakes are how we all learn
Missing prior design experience?
Get relevant work experience through our Apprenticeship Program to prepare you for a solid career in the design industry. Join our next intake — Delta Class 2023.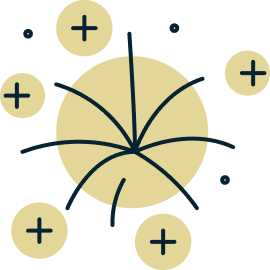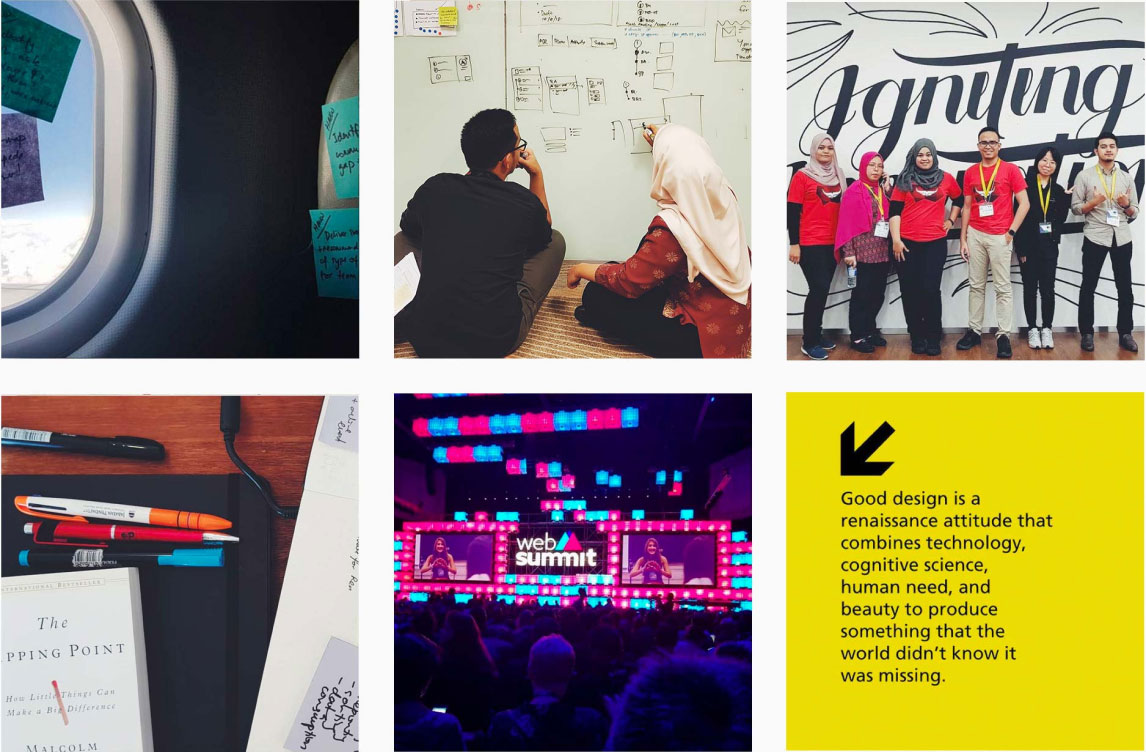 What matters to you
Doing the right thing
This is your true north. High integrity and ethical conduct means a great deal to you. You would not hesitate to make decisions that are best for the greater good. And you would do this even when no one is watching. When having to choose between easy shortcuts or facing the discomfort of growth because it's the right thing to do, you won't even pause to choose. If you've read Simon Sinek, doing the right things is probably your why. It is also ours.
Collaboration and working with others
As a designer, you enjoy engaging with others and you take active interest in being a contributor and a positive influence in your team. Whether it's users you're designing for or team members you're working with, you're genuinely interested in their perspectives and needs that might be different from your own. You seek to understand others and develop empathy for people around you. You take ownership in your team's goals and naturally enjoy working together to solve complex problems with clients and colleagues, even cross-functional teams. You go to great lengths to align everyone on a shared goal, and you share constructive feedback with your colleagues that comes from a place of care.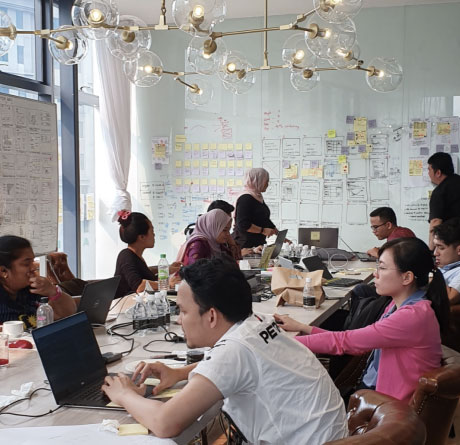 Solving problems, not gathering requirements
Problem solving is second nature to you. You're equally adept in both the problem and solutions spaces. The double diamond? You have seen the whole insides of it.
You don't expect business to dictate you the requirements. Instead, show you a problem and you'll work with others at the intersection of visual design, content and technology to get things cooking.
Your UI work is based on design, business and tech goals, without losing focus on the user. Your solution is a constant balancing act between the business viability, technical feasibility and user's desirability. As a designer, you have great respect for developers and you care about translating design value to business. You know that design is not art and UX without ROI is no good.
Communicating clearly and empathically
You are a big fan of effective communication. Your communication style is clear, professional, motivated, reflective and articulate. When faced with a complex problem, your style of communicating lends clarity and inspires action. When possible, you opt for visually communicating what you have in mind, because it allows others to share in that vision.
You write because it creates clarity. Through your written design rationales, you walk others into your thought process for each design component and how they serve the product goal. Be it wireframes, sticky notes or a Miro board, you seek to make the abstract more tangible, because shared understanding gets your team closer to the goal. At the end of the day, as a designer, you design people's experience of interacting with you.
Seeing both the forests and the trees
You can deep dive and resurface in and out of multiple product designs without getting the bends. Your critical thinking and problem solving skills are applicable to micro product detail, but you also appreciate the view offered at the product strategy level. Being a designer who is nimble allows you to adapt to the challenges ahead of you. Designing for multiple products and industries allow you to connect the dots so much faster and richer than your contemporaries.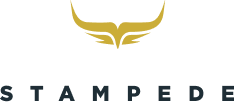 Employee benefits & perks
Mental health & wellness allowance
Utilise monthly claimable therapy sessions for mental health and emotional support
Career progression framework
Professional career framework to grow your craft and professional skills in the long-term
Healthcare coverage
Insure your health with clinical, surgery, specialist and hospitalisation needs
Learning and development support
Annual training budget for online courses or conferences, locally or internationally
1-year anniversary milestone
Bonus paid additional 5 days of leave after completing one year around the sun with Stampede
Flexible working hours and location
Work with an adjustable schedule and convenient location and actually practice work-life balance
Co-working space stipend
Rent a co-working space in your city as you work remotely with the team
Fitness allowance
Join fitness activities or stay in shape at the gym
Parental leave
Care for your newborn with paid time off for both mothers and fathers (dads, we've got you)
Disaster relief assistance
Receive aid during natural disaster emergencies
Open positions
Associate UI/UX Designer
Applying design knowledge to solve problems and implement delightful and useful experiences for digital products and services.
Permanent
Remote
Malaysian
Full-time
Salary
From RM3,600 – RM5,400 depending on experience.
Role requirements
1 – 3 years of relevant experience
Diploma or Degree in Design, IT, Engineering or relevant fields
A case study of UI design
A curated portfolio of UI design work that shows good command in design elements (e.g. typography, colours, whitespace etc) – we strongly encourage candidates to carefully select a few of their best work for consideration
Apply Now
Middleweight UI/UX Designer
Enabling teams to explore and solve complex product problems through the designs of structure and screens for digital products and services.
Permanent
Remote
Malaysian
Full-time
Salary
From MYR 5,400 – RM 7,200 depending on experience
Role requirements
3 – 5 years of relevant experience
Diploma or Degree in Design, IT, Engineering or relevant fields
A case study that covers information design and UI design
A curated portfolio of UI design work that shows good command in design elements and consistent quality in various styles used – we strongly encourage candidates to carefully select a few of their best work for consideration
Experience in translating user research and testing to design execution
Apply Now
Senior UI/UX Designer
Ensuring the design execution and effective delivery of a complex system of product and services, solving its current problems and scalable to future needs.
Permanent
Remote
Malaysian
Full-time
Salary
From RM7,200 and above depending on experience
Role requirements
More than 5 years of relevant experience
Degree or Masters in Design, IT, Engineering or relevant fields
A case study that covers systems design, information design and UI design
A curated portfolio of UI design work showing excellent command of design elements, breadth of styles and across various industries – we strongly encourage candidates to carefully select a few of their best work for consideration
Experience in conducting user research and testing and leading data-informed design execution
Proven track record of leading design teams and working closely with stakeholders and non-design collaborators
Experience in leading the design process and management of a design system
Apply Now