The best thing about being at Stampede is being able to work with amazing clients from all walks of life and background, thus offering us a variety of interesting projects to work with daily. Recently, we launched Pantun Sayang, a full-fledged French website for the French Association of Pantoun. The website, housing a quarterly digital review and poetry forums, is currently buzzing with voices from a diverse community of poets from all over the world, together for the love of pantoun,the traditional Malay poetry genre.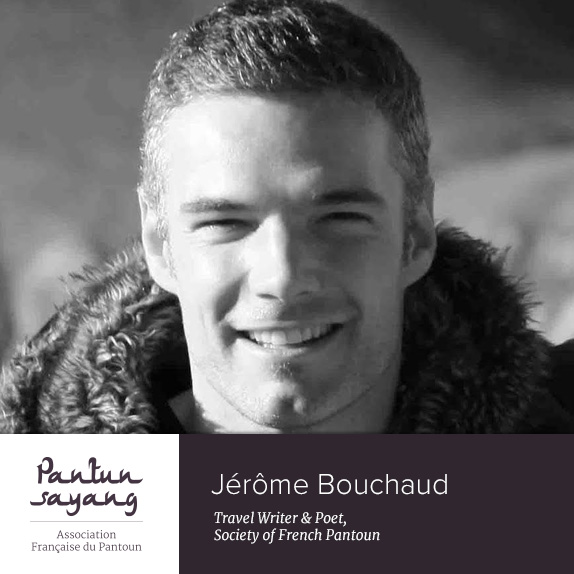 Victor Hugo made a world-changing mistake and it's up for us amend it.
I had the chance to interview Jérôme Bouchaud about the society while delving more into the subject of poetry and literature – and was concluded with a beautiful French poem on humility, recited by Jérôme himself.
Hi Jérôme! Thank you for making your time for this interview. Could you tell us about yourself and your role at Association Francaise du Pantouns?

Hey Zana, good to see you! I am good, how are you doing yourself?

To start, I am a travel writer by trade. My job involves a lot of travelling and observing, which I really love. Before this I used to travel around Southeast Asia a lot – such a beautiful region – to work on travel guides and books. These are mostly in French.

Only recently about two and a half years ago, I had the chance to launch a Malaysian literature website. In this website we compile all the literature regarding to Malaysia by a number of foreign writers, mostly French writers in this case.

This was where the turning point was – I was introduced to the folks in the publishing industry in Malaysia. We talked among each other a lot and I met Georges Voisset, who is a French pantoun specialist and currently the president for the Society of French Pantoun. He was the one who introduced me to pantoun, which is how I got interested in the traditional Malay poetry form and its amalgamation with French language.

After meeting him, I started to write these pantouns myself. It gets better and more interesting as you discover more about pantoun. So this is where Revue Pantoun was born where we decided to enlighten French poets on the beauty of pantoun and invite them to publish their pantouns in the website.

You speak so fondly of pantoun! I could practically see your eyes sparkling as you spoke of it. Could you tell us more about this form of poetry?

Certainly!

Pantoun in its traditional form was explored more deeply by Western poets in the 19th century, when exoticism was the trend, and one of the first poets to learn about it in France was Victor Hugo – I am sure you have heard of him – through his friend the writer and explorer Ernest Fouinet.

The problem is though, Hugo only retained the berkait (chained) form of pantoun, which is less common and longer than the usual four-verse pantoun. What's more, he called it pantouM instead of pantoun! From that typo onwards, there was no turning back and pantouM began spreading like wildfire among eager poetry circles around the Western world. Some poets even went further, imposing a set of rules to the pantouM which the original pantoun never had.

Today, pantouM is still way more famous than pantoun among poets outside of the Malay world. And that's what our French Association of Pantoun is trying to change, or at least rectify in some way, by informing poets on the actual origins of pantoun and its original structures. In French mostly, but as much as we can, in other languages as well.

Victor Hugo, such a world-changing mistake you have made! And now it's up for the society to amend it.

We can do this.

So Jérôme, coming from a self-proclaimed spoken word poet, I am especially drawn to idea of having a diverse community in of both Malay and non-Malay speaking folks – French, German, Spanish and the others – together out of love for pantoun, the traditional Malay poetry genre.

How far has the society grown now? How many writers do you have so far?

It is a small team. (Zana chimes: doesn't look like it from the amount of work!)


There is currently four of us at the moment. I am the secretary and the treasurer for the society while Georges, the French pantoun specialist and the man who was responsible for my love of pantoun is currently the President.

We have Jean-Claude as the Vice President, who is an engineer by trade, but has always been very passionate about literature in general. He is a big fan of Hans Overbeck, a traveller and writer from Germany who was the first translator of The Epic of Hang Tuah in a European language, in the 1920s. Then we have Marie as the Assistant Secretary, who has published many haikus and tankas over the years.

In the meantime, we currently have 14 writers who are always active in sending on contributions and writings. Before this, they had never heard on the original Malay form of pantoun before – they know pantouM due to Hugo. Pantoum, since it is berkait, is normally consisting of a few verses and can be written up till 28 lines in western version. This is not the form of pantoun that we want to preserve.

So the idea of the society is to enlighten the poets and the public on the true potential of pantoun. Pantoun is a form on its own with lots of nuances packed in and so much to discover. Out of these only four lines, something powerful and interconnected can come out of it.

To quote Orhan Pamuk in The New Life, "One day I had read a book and all my life has changed". I understand this might be the hardest question for someone who has been involved in literature for a long time, but could you tell me about your favourite writers whose work might have changed your life?

There is this book by André Malraux. In French it is called La condition humaine, or in English, "Man's Fate".

It is an old book, probably published in the 1930's. It is about the failed communist resurrection in Shanghai and along the way there were the stories of four people of diverse background and their individual plights intertwined throughout the book. It is such an eye opener – it got me interested in China and Southeast Asia in general, probably also responsible for my career as a travel writer now. Please read it, you would love it.

I would also recommend Soul of Malaya by Henri Fauconnier. It was set in Malaysia in the early 1920's about a friendship that develops between a French plantation owner and two Malay brothers. The book gives an idea of how Malayan life is like in the early 1920's, in a very open-minded way. There was also a mention of pantoun in the book, which I really love.

In general, my favourite authors would be John Irving, John Steinbeck and Paul Auster. Growing up, I read Stephen King a lot as well.

Goodness, I love The World According to Garp, even more so when Robin Williams epitomised Garp in the movie adaptation.

Aside from French Pantoun and Literary Journal, are you working on other similar, equally interesting literature-oriented projects at the moment?

Yes, there is!

Aside from focusing on the pantoun review project, I am also in the midst of doing some travel writing at the moment. Together with a photographer friend, I am writing a book about Langkawi. It is more of a travel coffee-table book, with stories of Langkawi, the legends, tips and some beautiful photos accommodating the stories. It is in the works now, and hopefully it will be published next year.

So exciting! What will the title be?

It is going to be called Langkawi Style.

The books are going to be in series – some of other writers are working on other Malaysian cities, for example, Melaka Style. So I will be the one in charge of writing Langkawi Style.

Looking forward to see it published! We shall buy ourselves a copy once it's out, please let us know.

So Jérôme, how did you find out about Stampede and what brings you to the decision of engaging us for your work?

Well it has been a while!

Years ago I stumbled upon Langkawi Yoga website and I liked the design. Me and my partner Dorothy also run Langkawi LASSIE, a shelter and foundation for needy animals, so we contacted Stampede to redesign the website. We were very happy with the results and and we also love working with the team. We found Stampede to be a great fit in knowing our needs and the team is also very well-versed in translating it into a website.

The team shall be very happy to hear this! I'll let them know.

How has the experience working with us on The Society of French Pantoun website?

Tell them I said hi!

Well, it has been smooth sailing. Since Pantun Sayang is entirely in French which I understood is not any of the team members' native language, I thought there might be slight disconnection and I am entirely OK with going slow and helping with the language issue if there is going to be any. But everything had worked so perfectly – the Stampede team understands how to work with various applications according to our requirements, there is no disconnection at all and I am so happy with the results.

Generally, great job!

Yay! One final question: how about reciting one of your favourite French pantouns and let us know the story behind it?

OK here we go.

One of the pantouns I wrote is the following one:

Plus grand est le bambou
plus bas il s'incline.
Plus lointain mon pays
plus profondes mes racines.

which, in Malay, translates roughly as:

semakin tinggi pokok buluh
semakin rendah ia merunduk
semakin jauh tanah airku
semakin terasa akar dan rindu

In English, it would go something along the lines of:

The taller the bamboo tree,
the closer to the earth it leans.
The further my native land,
the stronger my longing.

It's a very simple pantoun, but I hope it conveys its message well. That pantoun, and 299 other ones, will appear in a French pantoun anthology to be released in October this year and published by Editions Jentayu.

How beautiful.

Thank you Jérôme, it has been such a pleasure being able to chat with you!

Thank you, Zana! See you around.

Pantun Sayang was built on WordPress and was launched about a month ago. The website comprises of features such as forums and newsletter integration. It aims to create a virtual meeting place for all lovers of pantoun around the world and to promote knowledge on this poetic form and its creativity in various non-native languages.

You may find out more about Pantun Sayang by following the society's Twitter account and Facebook.