The most frustrating thing using smartphone or tablet PCs is the extremely fast battery consumption. This is especially true if you are hardcore users who use the smartphones for gaming, business and also for users who are always on the move and perpetually checking on the phone to get connected. Here comes the power banks, slowly making an appearance as a very important addition to supply portable power supply to the users.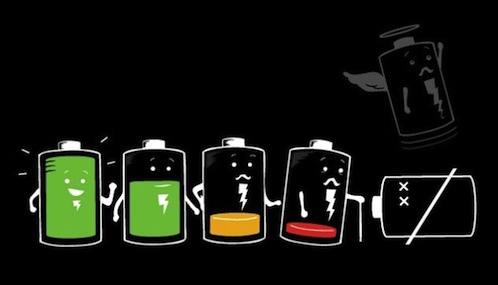 Nowadays, it is almost normal for every smartphone user to carry one, sometimes two powerbanks while on the move. They come in many sizes, shapes and battery capacities – measured in Milliampere Hours or mAh.
So I recently bought my own power bank…
Having to always resort to many methods of reducing battery power every time the indicator shows less than 20%, I recently bought a Xiaomi Mi power bank with 10400 mAH, after reading a number of many good reviews on the Internet. It is a high quality, China-made power bank with extremely affordable price compared to other brands with the same battery capacity and output power. You can see the range here.
Currently, Xiaomi Malaysia is selling the  10400 mAh for MYR36 only. Due to this offer, 5000 units were sold out after less than 9 minutes after first launch. However, you must be fast enough to buy direct from their website, otherwise you have to buy from local reseller with a higher price compares to the price offered as advertised in the website.
While I got my Xiaomi Mi powerbank for RM50 from a local reseller, the price is still considered affordable from other brands with the same capacity, which could range around RM80 to RM140. The power banks are also available in 5200mAh for mere MYR25, if you just need a smaller dose of juice.
The review
Now for the holy unboxing ritual.
Once I unwrapped the packaging, I found that this power bank was inside hard clear plastic case which were filled with a manual, short (I can say it is about 22cm) white color micro-USB cable and of course, the power bank itself.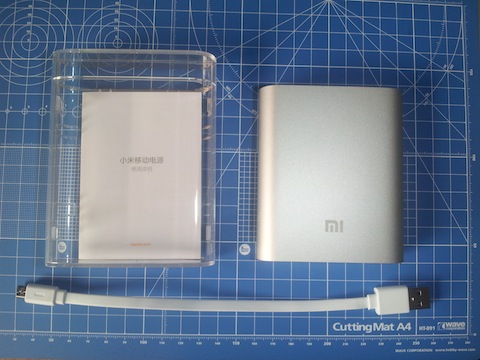 The body is made from aluminium and weighs heavier than what I have expected – about 250g and looked solid (1mm aluminium thick). It has one power button, four light indicators ( one light on represents 25% electric charge), 1 micro-usb slot (input) and 1 usb slot (output).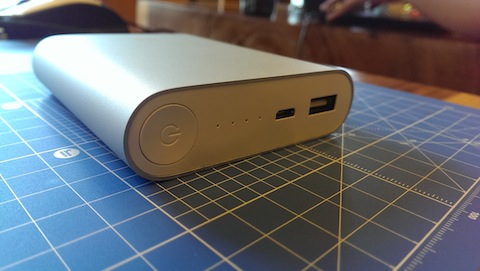 Pressing power button for the first time, one light indicator flashed before my eyes which means about 25% battery has been filled. Decided to charge it and it took about 9 hours to get full charge for the first time by using 5V, 1.0A output charger. Once it was full charged, I switched on the button to see the light's reaction.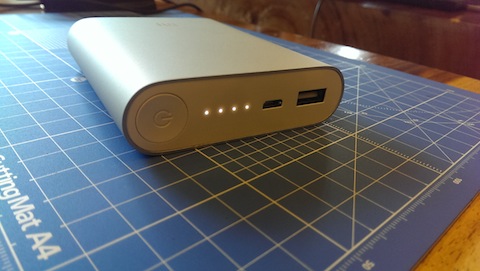 How to charge your phone? It is just so easy – just plug in the USB cable to the power bank slot then attach the micro-USB to the designated USB slot in your phone. It will automatically charge your phone without switching on the power.
A bit confusing of the power button is for, in this case? It can be used to reset the power bank in unstable environment – for example there was one time it paused on charging, so I had to press on the button for it to resume charging. In addition, I always use the power button to check the power bank current battery charge.
After a while, I notice that the power bank does not heat up quickly – which I like the best. That is the pro.
The con? While it is affordable and looks solid, I wish it would support more than one output.
Finally…
A word of advice though: If you are interested to buy, please be careful for fake products. It is not uncommon to say that good products will ultimately attracted companies who would create fake, even cheaper products and this applies the same to Xiaomi range. This could be dangerous for your smartphones and also yourself. You may refer here to see the different between original and fake.
Do you own one these Xiaomi Mi power banks too? If yes, how did you find them so far?
(Header photo credit thanks to Phonearena)