Recently, we launched Motopedia.ae, a portal on the latest, unbiased car reviews and comparisons across the UAE and the GCC region. The fully responsive website includes exciting features like an intelligent search function recommending similar cars based on price range, body types and car class, Google Map integration, Facebook authentication, sharing functions as well as comparison favourites. It was a ride worth being buckled in for.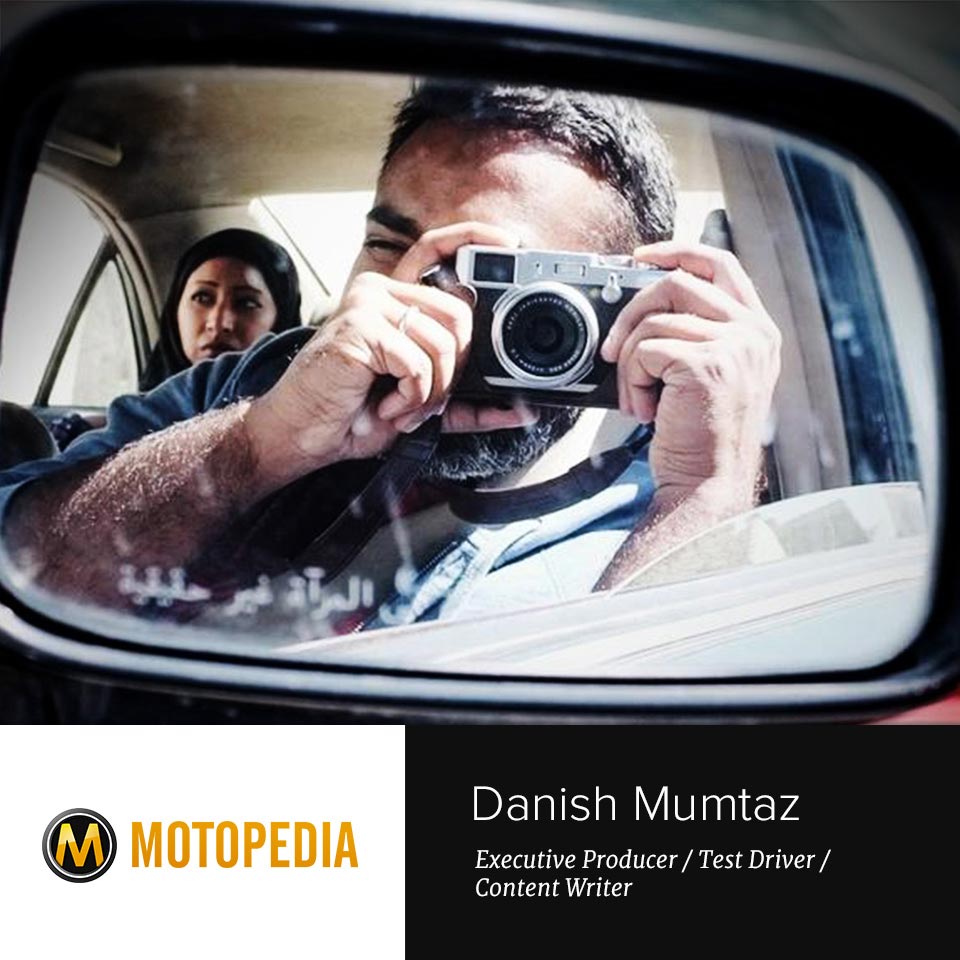 I took a leap of faith — and decided Stampede it is.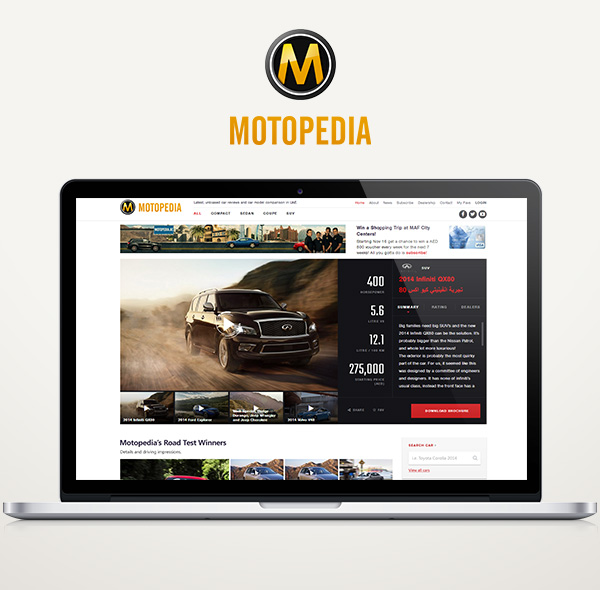 Shaiful and Zana had the chance to talk to high-spirited Danish Mumtaz, Motopedia's main guy. We gushed about cars, devised new website plans in the works and talked about how Danish chanced upon Stampede, before the rest is history.
Hi Danish, good to have you! How are you doing? Could you tell us about yourself and your role at Motopedia?

Hello, you two! I am good, thanks – how about you?

I am the main man of Motopedia – I am the guy with ideas! Well, to be official, I am Motopedia's Executive Producer as well as the Content Writer. It all started when Alawi and I were discussing on cars  – we do that a lot, but then we realised there were no video reviews for cars sold in the UAE as well as GCC. It's unfortunate because the Saudis love their cars, but they only had to make decisions based on existing print articles or having to watch their favourite cars being driven somewhere in California. These guys, they want the real thing. Branded content is also on the rise – there are quite a number of Youtube videos doing reviews, and we asked ourselves, why not?

So this is where we see the opportunity – we have the means, the tools and ultimately the passion, and so Motopedia was born!

How did you find out about Stampede? During the proposal process, what made you confident to move forward with Stampede?

This is an interesting story.

The first few months when we decided on the idea of Motopedia, we commissioned a small agency to build the website. However, after a few weeks, they probably realised the magnitude of work involved and they could not do it. We were devastated of course, so we were on a search again for the team who could realise Motopedia.

During these months, we contacted a few agencies – listing down all our requirements and deciding on a number of websites we could base Motopedia on. We were running high and dry. Finally, a UK-based agency replied. The price quoted was a bit too high though, since they decided we should go with a custom content management system (CMS). We were close to agreeing, but then I decided to sleep on it.

Compare cars or check out Motopedia's favourite picks

I remember the time I was in Malaysia and heard about the rise of digital agencies in Malaysia, and some of them are reputedly to be really good. I did some research and came upon Stampede's website. I love the design – it is modern, contemporary and it is easy to navigate – just how I want the new Motopedia to be. I found Shaza's number and gave her a call only to be directed to her voicemail. A few minutes later, she sent me an email — I had no idea how she tracked me (Shaza: I Googled the number!). We exchanged a couple of emails discussing the requirements and she sent me a proposal outlining the scope and plans. The proposal was comprehensive and really reasonable, since now it turns out we could build the website using WordPress.

So now it is between Stampede and this other company.

In the course of us trying to make our decisions, Shaza and Dov have been very transparent and helpful with walking me through the pros and cons of WordPress and custom CMS. Stampede has done both options for clients in the past so they are able to recommend the best-viable solution to us. Both WordPress and custom CMS have their own strengths and weaknesses. However WordPress has come a long way with so many well-developed plugins. It's also backed by a huge community of developers. The fact that WordPress is both powerful and versatile allows us to launch the website on time with the features we want. We can also implement more exciting ideas as we go along with all the plugins available for WordPress.

In our case, going fully custom would have been an unnecessary cost and will be similar to reinventing the wheel all over again.

I took a leap of faith — and decided Stampede it is.

Interesting indeed!

So Danish, tell us more about your love affair with cars, how did the spark ignite? Perhaps you used to own a classic car or having involved in backyard car projects or a friend took you for a 250km per hour spin in a supercar?

Unfortunately, my man, there is no real life-changing stories about it. (We all chuckled)

It was that most of us share a common interest over liking cars. In Dubai, we get to see all types of cars sprinting fast by us and we could not help wondering, how does it feel to get to drive these cars? How different they are from the rest? Who would be interested by them?

These kind of thoughts could lead to a lot of ideas. Even though if one is not interested in luxury cars, you'd want to give it a test drive just to see how cool it is, you know, like Bugatti or something.

Sexy, boiled-down stats that matter

Oh yeah, Bugatti is one sexy beast.

Your latest Wadi Special video featuring three American 4×4 put through a series of off-road tests kind of reminisce of Top Gear challenge segments. Can we expect more videos shot in a similar style in the future?

Probably!

The funny thing is, we never intended for the shoot to turn out like that. Some things coincidentally turned out good, like our chance encounter with Stampede. Also, it seems people have an affinity for a number of friends arguing with each other on-screen – so yes, expect some similar style in the future!

What cars are you looking forward to review in 2015?

I think we would be reviewing a number of Mercs and Beemers. Throw in some Fords as well.

We would like to review some American cars apart from German ones, like the 2014 Chrysler 300CC we already have in the reviews. And yes, supercars too – Porsche 911 or Cayenne. That would be great.

Dealership listing by locations and brands

Sweet! Looking forward!

The people of UAE certainly love their cars. Based on your experience, what are Emiratis favorite subjects when it comes to "car-talk" besides price tags? For example, here in Malaysia potential car owners tend to talk a lot about resale values and after sales services.

The truth is, after a certain price point, after sales service and resales are not much of higher importance.

I have a friend in London who just bought a Range Rover Vogue. This is a smart SUV, excellent for both off-road capability and on-road handling – superior in many ways. Its monthly petrol bill could reach USD700, this is not including the roadtax and other maintenance bills for the car. Was he concerned? No, because he is driving a Rover in Central London!

Based on my experience, I guess the certain price point where people would talk about resale values  is about USD100,000. After that, people do not seem to mind anymore if they could spend more on that.

So, what sort of features can Motopedia fans expect soon in the website?

Well, as we all know, we are currently working with you on the cars comparison page. Users can add up till four cars in the same page side-by-side and compare the criteria based on its performance, interior, safety details and many more. Users can also save the comparisons in PDF format and also share with friends over social media. We are very excited to get it launched this week.

I was also thinking of putting up a page for deals, something like Groupon, but specifically for cars.

We are working with a number of small automotive businesses in the area at the moment. It would be good if we could help them promote their businesses by aggregating car-related deals every week – for example, for car polish, maintenance, window tinting, car wash and many more.

Sounds great! Let us know if you need our help!

Final question – which features do you love best in the current Motopedia website?

How many am I allowed? Because I think I love everything!

Motopedia.ae is fully responsive so give it a spin on your tablet and mobile

First, of course I love the design. It's elegant, it's straightforward and best of all, it works wonderfully. Everything is laid out in the homepage – the dealers search, the video reviews, the search functions, everything. It might seem impossible to fit everything you need on one page by itself, but Stampede did it.

Of course, the search function. It works just how it should be, it predicts very well and it's intuitive. Just a few letters in while searching and it is suggesting some results for us. Brilliant one, Shaiful.

Search and filter interface for greater comparison control

The website is also easy to maintain, since it is on WordPress. My boys had no hard time learning on how to use the platform. Just a few clicks and it's up. Easy-peasy.

Finally, more so about the features, it's about the team. Stampede has been really supportive from the beginning – from the requirements stage, proposal, design, programming, project management – all the way till launch. The post-launch support has been so unbelievably amazing too. Even now, Stampede continues to share exciting ideas and best practices for us to take Motopedia to a greater degree than it already is.

Superb job, everyone.

Thank you Danish, from all of us at Stampede!

And thank you again, for making time for us. It had been such a pleasure to talk to you, and to be able to work with you and Motopedia team.

All around, a great team we both make!

Couldn't agree more! Talk to you both later.
Go ahead and check out the nifty features on Motopedia.ae.
You may also follow their Facebook, Twitter & Google+ for frequently updated information on car reviews and tips.