Somewhere around May, we launched the first phase of PurelyB, a go-to guide to leading a sustainable healthy lifestyle, currently available for the users in Malaysia and Singapore. The website is aimed to make healthy living easy and convenient through guide to various healthy restaurants, meal plans, tips, recipes, online consultations with certified expert panels and many more to come.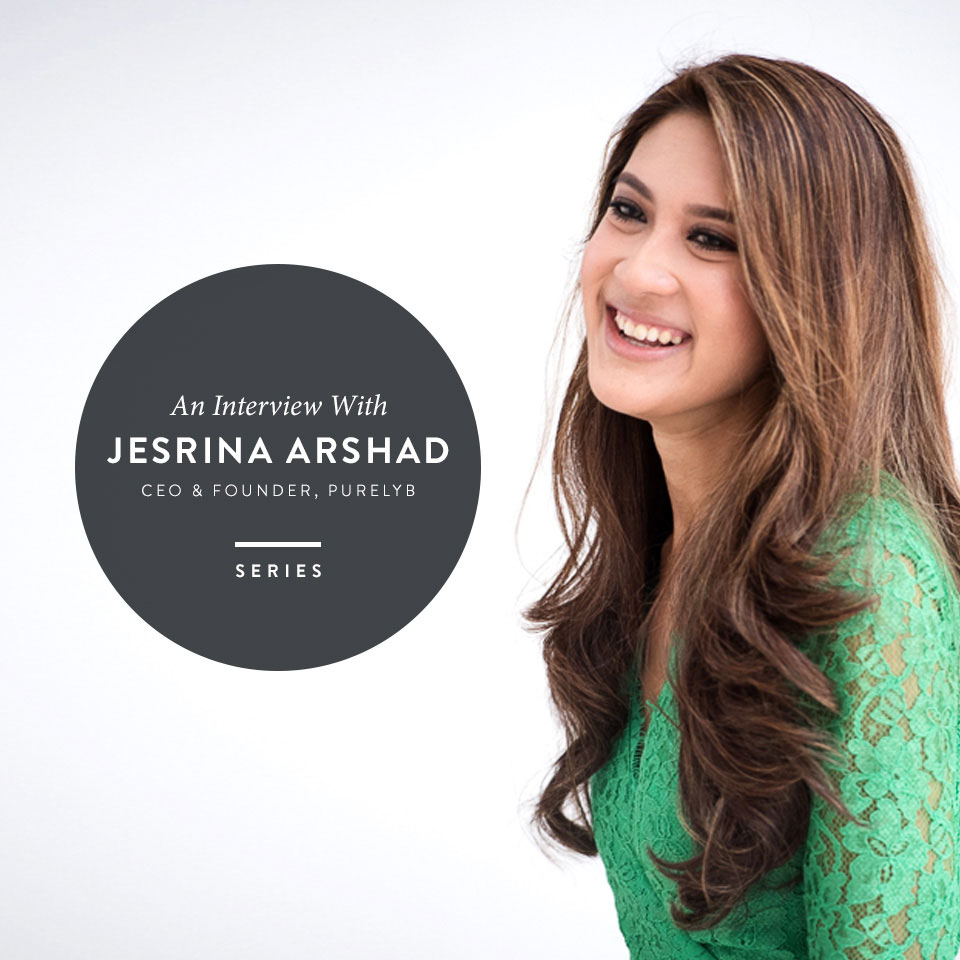 Every time I wake up to know that PurelyB changes lives, that keeps me going even more.
Currently in just two of its earliest phases, PurelyB is brilliant by itself in garnering their own massive following, having close to 10,000 followers in just its first month and currently standing at 10,000+ likes for its Facebook page. These are mainly Malaysians and Singaporeans who had been aspiring to live and eat healthier these days, and having PurelyB is a godsend.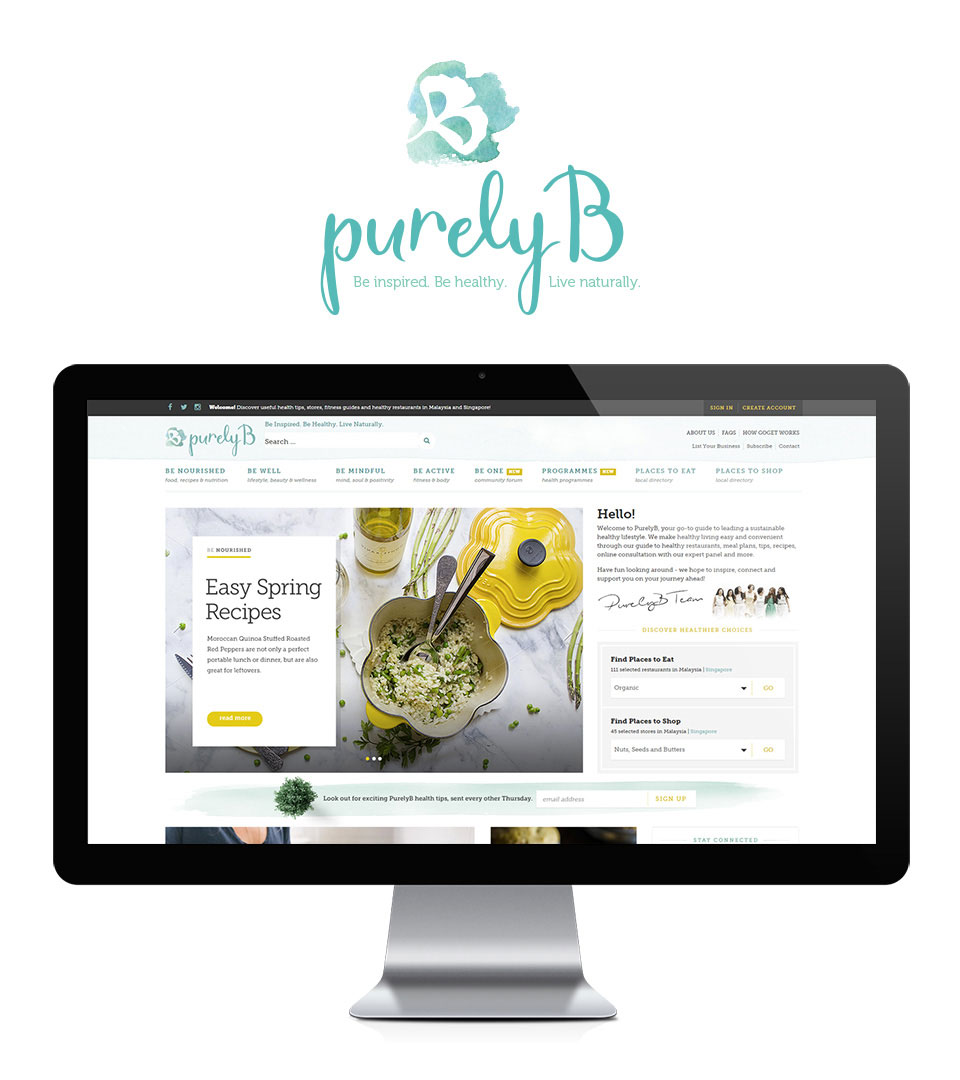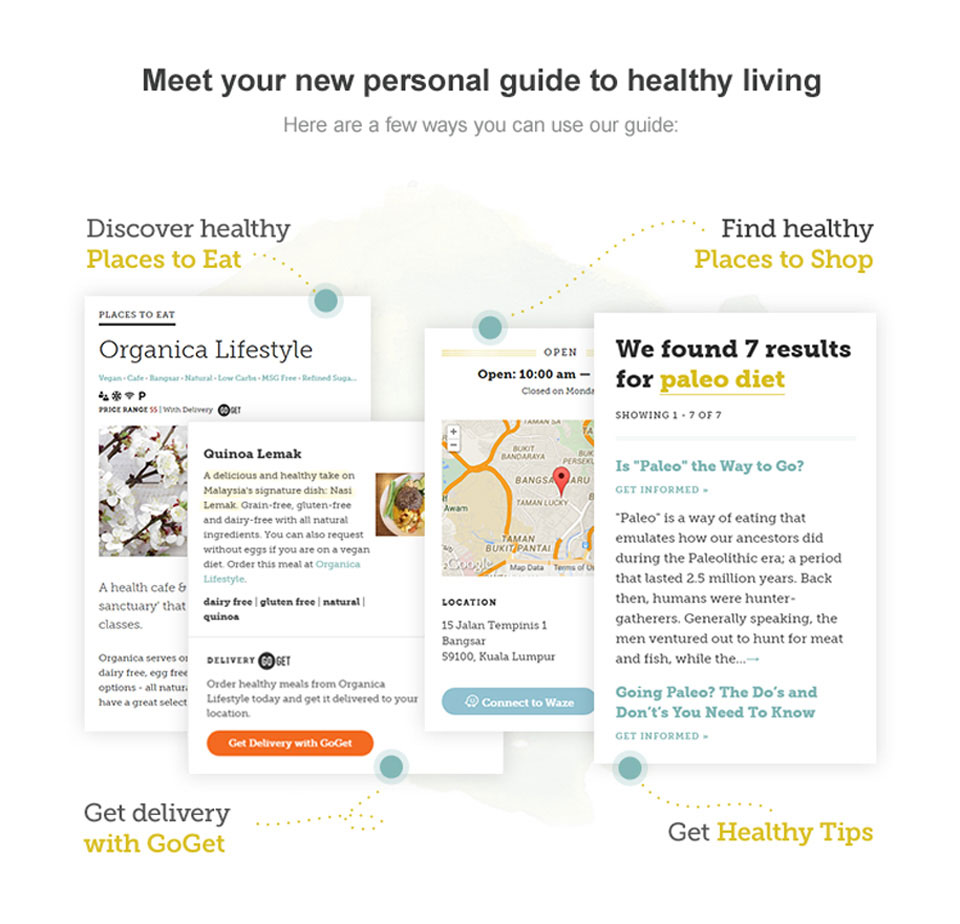 Shaza and Zana had the chance to talk to CEO and Founder of PurelyB, Jesrina Arshad, whose positive energy is so infectious. We got to pick her brain into what drives her to create PurelyB, how she got to rally such an amazing lineup of experts and team members and how Stampede has helped realising her dream.
Hello Jes! Lovely to have you here! Could you tell us about yourself and your role at PurelyB?

Hello!

Well, my name is Jesrina Arshad. I had been in digital industry ever since the start of my career. I graduated in Multimedia Technology Design from University of Kent in Canterbury, United Kingdom. This was one of the top universities in multimedia in the United Kingdom, about 12 years ago when multimedia course was practically unheard of. Did you know writer Kazuo Ishiguro was an alumnus of University of Kent?

Moving on to career wise, I had been serving in digital agencies before finally accepting a role in Astro and the Head of Digital Marketing. It was limitless in terms of possibilities, it was fun, fulfilling, I learned a lot there and it was the start of so many things.

But eventually it's about time I found a calling in life. I have loads of allergies – you know the feeling before you walk into restaurants and having to do extensive research before ordering something so that allergies won't hit you and you won't go home with practically bumps on your face, having trouble breathing and all? So I thought, why didn't I collect all these resources into one platform to help all my fellow allergy-sufferers as well as the others who are looking to lead a healthier lifestyle?

Hence, PurelyB is born.

PurelyB is the first of its kind in Malaysia – a website dedicated to healthy living and eating in Malaysia and Southeast Asia, and soon expanding to Asia. This is especially a good initiative for the region where most of the dishes, due to diversity, result in a symphony of flavours. However good they are, they might not offer some healthy choices though. What brings you to the idea of realising PurelyB?

It started when I have began following some of healthy food bloggers from Australia and the United States, offering tips about healthy lifestyle and healthy dishes every day. These food bloggers made me realise that good food, in all its sentiments, does not have to be bland, that they can be surprisingly healthy and yummy by itself. But, you see, we haven't had such people doing so in Malaysia so far.

This is where I saw a market for us to create a portal that resonates with people at this region featuring more localised as well as fusion recipes. There are also families and friends who are now into superfoods as well – chia seeds, kale, açai and the likes.

My Instagram account was also such a hit when I began featuring alternative ingredients to our everyday Malaysian food. Something like cauliflower fried rice – you have no idea how excited people to see that there is a healthier option to their favourite everyday meals! They don't have to give it up yet they can still eat healthy.

Oh yes! I remember someone came through Intercom.io (the platform where we use for PurelyB to communicate with customers in real time) from Alor Setar praising so much of the cauliflower rice. Shaza kept asking if it was me, since I am based in Kedah now.

No, it wasn't me though, but it was great to see how people reacted positively to it. (we all laughed)

Yes, something like that!

It was great to see people's reception to these alternative ingredients that won't make them give up their beloved everyday Malaysian meals. All we need to do is to educate them – give them the right information, the sources of where they can get these ingredients, all the useful deets. Implicitly, giving them an objective point of view so they are more aware and more educated on healthy eating.

So I decided, well if no one else is doing it, it has to be us.

What do you think is the highest concern of Malaysians when it comes to embarking on healthier eating and living? Is it the convenience of obtaining healthy food and finding these fitness classes? The price?

Well, we did a thorough survey before starting with the business model for PurelyB in its initial stage.

While price is definitely a concern, people are definitely embarking on a healthier lifestyle and are willing to spend more especially when they have family and kids. However, they do not have enough information on these aspects, especially something more localised and catered towards Asian tastebuds. They didn't know where to go to get stuff, where to start, how to start, which yoga position is for beginners, which class should they take etc. Eventually, this hindered them from changing their lifestyle to a healthier one.

So, more so than the pricing, it's more of building education and mindset. Once all of that is transitioned properly, pricing wouldn't be an issue.

Your team is made up of such wonderful line up of experts, writers as well as team members! Tell me about your experience engaging with this brilliant people and getting them onboard to contribute to PurelyB.

Oh my team! We wouldn't be where we are now without them!

As soon I got the idea for PurelyB, I knew I had to get only the right people onboard.

Half of the team should be the best of the best in health and wellness. They need to have the right credibility, their visions should be in line with mine. There are a lot of healthy practitioners these days, but I am looking for those who are more into natural health, emphasising on prevention, treatment, and optimal health through the use of therapeutic methods and substances that encourage individuals' inherent self-healing process.

I think this is because I had been brought up this way. My sister, Dina is a naturopath, so whenever any of the family members have any sickness, Dina is the first person we often consult to for natural remedies rather than going straight for medications.

There was one time one of our family members had H1N1. It was very alarming, none of the hospital medications worked at that time but Dina concocted a natural healing and saved him. So we had always been believers in natural healing first.

I was then introduced to Amanda, one of the best and few certified natural healthy practitioners in the country. I was reminded that there were only five of them in the country, along with Dina, so being introduced and got to have a long chat to Amanda about having her on PurelyB, where she immediately said yes, was so amazing!

My mentor, Wu Han, of whom I met during my earlier working days, then connected me to Marissa, the co-founder of Centre Circle, a training facility that helps individuals and teams flourish in the workplace, who also runs Movimento Simples de Capoeira, Malaysia's leading Capoeira and Brazilian culture academy with her husband. We immediately clicked and she introduced me to Carina, a renowned nutrition expert. When I spoke to Carina, she was excited to come onboard and professed this is something she had always wanted to do. Carina introduced me to Dave soon after, and my lineup of experts are complete for now.

Once these five key people were established, I immediately identified my digital experts. My good friend, Stephanie had been in digital strategy for years and she had won numerous awards for many of her campaigns so I knew she would have been a great fit as the COO. I brought Helenness onboard as the CMO, of whom I had known for years. She had experiences running many successful social media campaigns and also runs her very own digital agency, so she's also another perfect addition to PurelyB.

So here are the pioneers of PurelyB, and I could not have been much prouder 🙂

Wonderful!

On the general question of running a startup, what have you learned so far? What sort of wisdom can you disperse to entrepreneurs, especially those who are new to the startup scene – eager to start, albeit a bit scared?

One thing for sure, you have to have the right team. It's not about getting the right or smart people, it's the dynamics – of course finding the right developers as well 🙂 We have just been mostly extremely lucky in getting the right kind of people for every team.

Also, be sure to have a clear vision and a clear goal of things and be careful not to get distracted in the way. It is easy to get carried away and getting micro when it's your baby, but having the right team helps you gain the trust to delegate tasks, give them a sense of ownership and they will take care of things.

For new entrepreneurs, be thoroughly passionate in what you are doing. But passion is not enough, be prepared with all sorts of strategy and believe in them. Have the right target audience. Whatever happens, plow through things – I know this might not seem a very helpful advice, but once you have the drive and passion, you will go do it no matter what.

Any advice to disperse to women entrepreneurs as well?

To be honest, I don't see much differentiation in being an entrepreneur regardless of gender, which is good because that means we are all treated equally.

We were at Tech in Asia recently where we talked to a lot of investors and they were really interested in what we are creating, hence I don't see any prejudice at all. Just work as hard as anyone does and we will get through it.

What's the BEST thing about running PurelyB?

Well, I get two hours of sleep everyday… (we all chuckled)

… BUT it does not feel that way. I just love PurelyB and I love what I am doing. There is a definite difference to it when people are really passionate about what they are doing.

Another thing is that there are so many things you learned along the way. I learned so much from the health experts because they wouldn't stop sharing all their wisdom – what to eat, how to take better care of myself etc. I learned so much about running a company on a daily basis – the psychology of getting customers interested, how to retain visitors to the site, what kind of content resonates well with the audience etc. I also learned about the best technical and UI/UX solutions to give more visibility to PurelyB website to compete against all the other health websites sprouting in the virtual sphere.

How did you find out about Stampede and what brings you to the decision of engaging us for your work?

It started out when I spoke to Wu Han and shared with him about the idea of having PurelyB. I told him, "I want to work with the best developers, and I need some names," so he pointed me towards Stampede and another company.

We spoke to Stampede and this other company within the same week, and we took our time in evaluating both companies. What I found out about Stampede, outside of the online portfolio that was in the website is that Shaza, the first person I spoke to in Stampede, could really connect to the project. There is this unspoken level of dedication and into details that you just could sense. Upon time working with Stampede, we realised how the whole team put their all into it – this is so unlike other agencies.

Couldn't stop smiling. How have the experience working with us so far?

In general, it was brilliant.

Look at it this way – I have been in the industry for 9 years, I have been working with numerous agencies. Honestly speaking, working with Stampede is the best experience thus far. Whilst other agencies treated us like projects, Stampede goes above and beyond in realising our long term goals. You know there are agencies which are good in design, but somehow lacks a bit in the implementation – and there's also who has so many documentations it is really convincing but when it comes to design, front end and project management, it all goes haywire?

Stampede is not that kind of company. You guys really do deliver beyond expectations and within timeline.

So far we have received so much compliments, nothing beyond flattery. We hear of how the design is refreshing, inviting, not cluttered although there's loads of content and browsing on mobile is also seamless.

On Stampede's understanding on the requirements, they got them nailed from the start. When I relied my requirements, I have set the tone of what I have envisioned – I want to have the capability that Salesforce, Shopify or Magento have that I can highly customise as well as intuitive. I understood what would work well in retaining audience and driving leads but as a startup, I could not afford as much to have the same capabilities as the features those platforms would offer, and I see over time I would be expanding more and more, so the solution has to be sustainable.

Once I communicated these concerns to Dov and Shaza, they immediately came back about the right solutions – and as you can see with the launch, Stampede is capable to deliver! There were also a lot of adhoc things that my team had been asking in such a short time, but Stampede had always been able to accommodate within such a reasonable timeline.

On top of that, mostly what I love about Stampede as well is that you guys are like family. There is a definite team dynamics there that you do not get from working with other agencies.

What sort of features can the fans expect soon in the works?

Right now, we have the blog feature, where you can read articles on mindfulness, recipes, living an active lifestyle, parenting and so many more. Then we have also the directory feature where we list healthy restaurants and shops in Malaysia and Singapore with search option on locations and health considerations so healthy lifestyle enthusiasts will have a one-stop centre to refer to if they are looking for healthy ingredients and where to eat.

Recently launched, we are now also offering health programmes. Currently we have three: 21-Day Kickstart to a Healthy Lifestyle, 7-Day Detox and 3-Day Detox. These are catered towards people who need guidance in living a healthier lifestyle, but are too busy to start on their own. So in this case, we will be offering programmes created especially by our nutrition and fitness experts ranging from daily exercises, fitness tips, grocery list and many more. Also, if they do not have time to create their own meals, subscribers can opt for a premium plan where we can get food delivered to them.

In the next phase, we shall have recipes feature. We will be aggregating favourite recipes across the web according to dietary needs and these will be customised to local tastebuds. What even more interesting is that these aggregated recipes shall also be linked to shopping lists. Soon in the next phase we shall also have is the marketplace feature. This works as an online store – think Mudah.com for healthy lifestyle needs – where people can purchase healthy products and services ranging from personal care and ecofashion from various suppliers and brands.

In targeting even more widely towards Southeast Asian users, we also target to launch multilingual features in the next phase. Starting small, we are going to start offering the site in both English and Mandarin first, and then Bahasa Malaysia in about a month after that.

All in all, PurelyB aims to be the 3C's platform – offering one-stop solution for community, content and commerce catered for healthy lifestyle.

One final question: Where do you get all the energy?!

(laughs) I have no idea – I guess I have found something I am really passionate about in PurelyB, and there is no stopping me!

What keeps me going also are those praises I get on a daily basis. I regard PurelyB as my own baby, so when people have been expressing nothing but praises on something you love so much and you believe in, that keeps you going even more.

Does it also have to do with the fact that you are eating even healthier?

I have always been a staunch believer of eating healthy! Now on top of running PurelyB, I have set up my mind to walk the talk even more, to become the advocate of my own product and eating healthy every single day. You cannot build something you don't believe and practice on.

Jes, what you do not know also is that, PurelyB has also changed the life and habits of us at Stampede.

I have started working out. Zana, for a while, had been trying to find out where to buy quinoa because she had some while she was in Melbourne and she loved it – now she knows where to find them. Shaiful, on the other hand, had been starting to try planking every day, so he had been reading articles in PurelyB Be Active section every day.

You see? THIS, these kind of comments, they are the ones that kept me going! Every time I wake up to know that PurelyB changes lives, all is well.

I can't thank you guys enough for being in this journey together. Happy working is a mutual thing, so I am glad to have found Stampede.

Wonderful to hear that, Jes! We are so glad to be able to help realise your vision too.

Thank you for the time and speak soon!
You have to check out all the wonderful articles, a hefty selection of healthy shops and restaurants and specially curated health programmes all on PurelyB.
In the meantime, do also give a follow to their Facebook, Twitter & Instagram. Be careful treading about the photos of yummy, yet healthy recipes during Ramadan!