There is always the first time for everything – like being dragged along with your Creative Lead and your Project Manager to watch a poetry show across the Causeway. At least, that has happened to me.
It all started when Zana signed in to work, announcing as ever shamelessly as she always is, that she had two extra tickets to go watch Sarah Kay & Phil Kaye at The Projector – and inquired if anyone else would like to go with her. Shaza volunteered right off the bat, while the rest had things to do over the weekend. I was reluctant to go along because I was never interested in literature. However, with a little bit of arms twisting by the girls (they were way stronger than I thought!), I agreed.
Besides, this would be my first international flight. Should be exciting.
Day 1: Looking for the merlion
After approximately 1 hour and 30 minutes direct flight from Langkawi Island, we found ourselves in Changi Airport, one of the largest transportation hubs in the Southeast Asia. The multiple award-winning airport serves close to 6,500 flights on a weekly basis! And I thought having to complete 5 HTML/CSS pages in a week is already such a traffic!
I got the window seat, so I had the chance to see how the view changed from when we departed from Langkawi all the way to Singapore. Before landing at Changi, I saw there were hundreds of cargo ships in the coast compared to where it was in Langkawi. Being in the plane, flying untethered, reminds me of what comedian Louis CK said, "You're sitting in a chair in the sky. You're like a Greek myth right now."
I was practically Icarus right at that moment.
We made our way to our hostel, 5footway.inn Project Bugis slightly earlier than the check-in time. After leaving our bags at the hostel while waiting for the rooms to be ready, we decided to walk around the place to scout for lunch spots.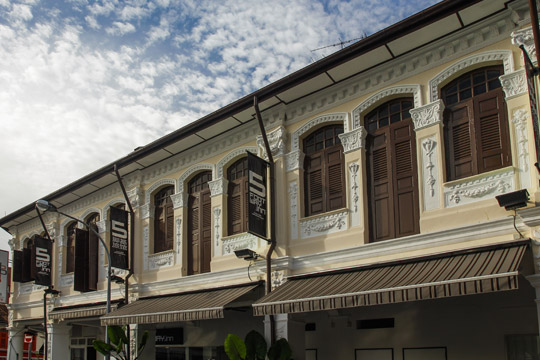 This is our first time in Singapore, so we had no idea what to expect much. We were delighted to find that our hostel is situated in the Kampung Glam neighbourhood, where the famous Haji Lane is. The streets are filled with narrow shophouses which had been given a new lease of life by local designers and young entrepreneurs who have set up their fashionable boutiques and hip restaurants here. Grub should not be a problem, so one issue solved!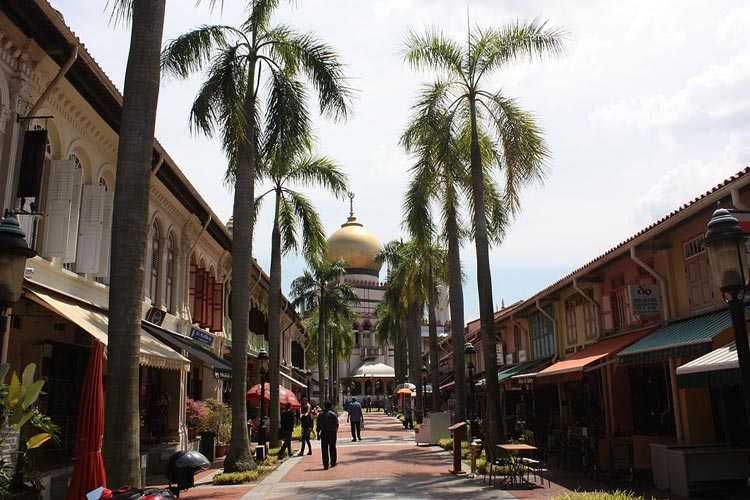 A particular place caught my eye: it's called Children Little Museum. I begged the girls so that we could visit the place right away, but Zana said, "Last day, Sani, on our last day here."
I sulked, but not too long.
After checking in at our respective dorms, we were out again exploring. We chose to have Minang food at a quaint small restaurant called Restoran Sabar Menanti. And now we are off to look for the (mer)lion!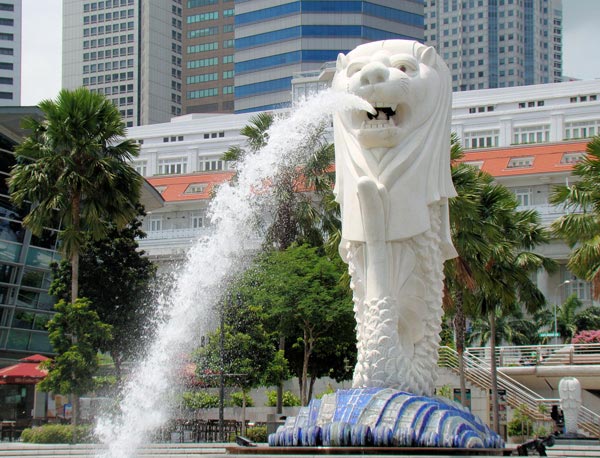 After walking for what seems like an eternity, we were welcomed with the statue of the merlion, standing ever so majestic overlooking the three towers of Marina Bay Sands. Of course, we decided to take some selfies and standard touristic shots to send to the team back home with the sole purpose that they'd be brewing with jealousy.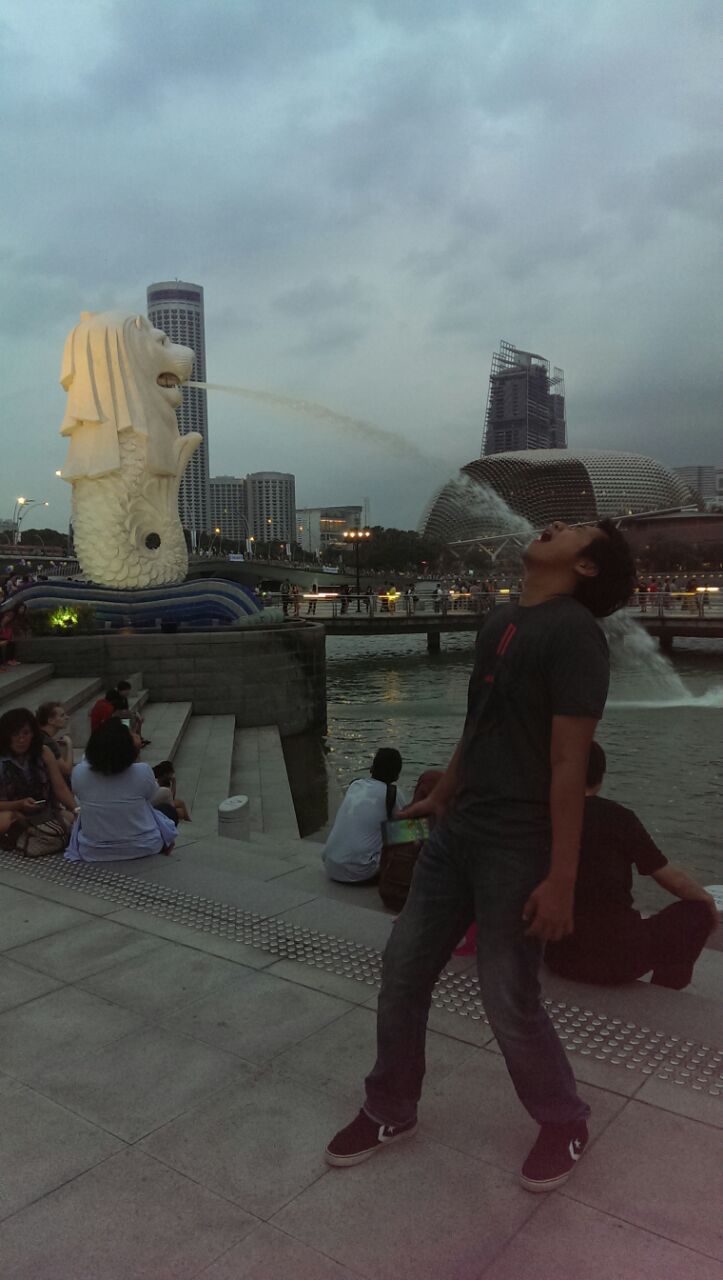 Trivia time: while the merlion is a traditional creature in western heraldry, for example – on the coat of arms of of the city of Portsmouth in the United Kingdom, it was never featured in any local folklore or myths of Singapore, and was only used in Singapore initially as the logo for the tourism board.
After sending about 300 images through Whatsapp to the team until Shaiful replied, "We get it. You are having fun. Go away, guys." we decided we had annoyed the team enough for the day. Feet all blistered from walking around the city, we took the taxi back to our neighbourhood (as we have already grown fond of the area) for dinner.
Dinner, as an introduction in one word, was delish in many ways.
Because Zana is Zana, she had done some extensive research before going for dinner and she recommended this hip restaurant called The Lab located in Jalan Pisang. We were their last customers of the day, of which we had to join a small queue before being escorted to our table.
The Lab, as its name suggests, adopts the theme of a laboratory for their restaurant concept. Our drinks were served in beakers, which sent us into picture-taking frenzy and Shaza's drink particularly caught our attention – it was called Heisenberg* served with a syringe filled with blue curacao syrup.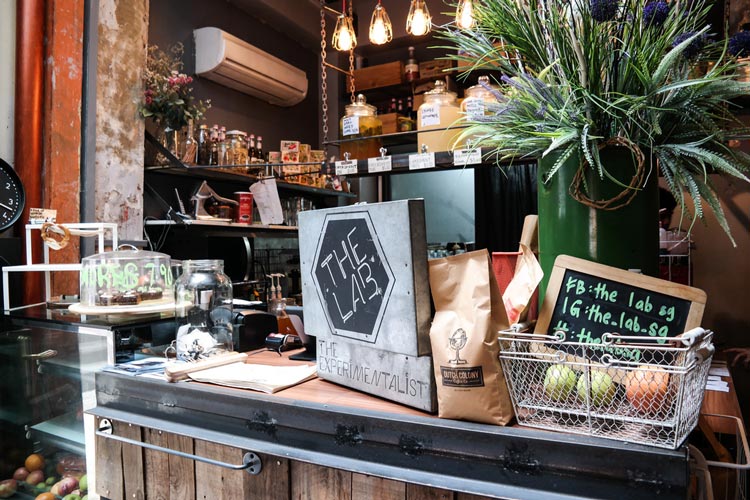 On the walk back home to the hostel after dinner, we thought grub time was over. IT HAD NOT.
We decided to stop at a Turkish restaurant on the way back, ordered a kettle of çay (Turkish black tea), some fıstıklı sarma (pistachio rolls) and chatted away into the night – about life, relationships and how to centre float elements in HTML/CSS.
Day 2: Navigating CBD by foot
We are these typical Malaysians, as we have found out – especially when it comes to food.
While there were many restaurants around the neighbourhood – western, fusion, Turkish, Korean, etc. – we still found ourselves at Agrobazaar across where we were staying. Aside from selling fruits and fruits-based products from Malaysia, like cordial and juice, they also have a cafe. We grabbed a nasi lemak in packet each, savouring in the fragrance of pandan leaves and coconut milk and pondered over how beautiful life is.
Food is that moving for us.
Travelling with two bibliophiles, it wouldn't be complete without a visit to the National Library of Singapore. We were lucky to find there is a cartography exhibition going on in the library, where we could learn about the history of Singapore.
Being at Stampede where we value details, perfection and good user experience in our work, we were astounded at how well-executed the exhibition is. It was told chronologically with such engaging copy, and various mediums such as videos, text, photos and sound were used to express the information better. For someone who is not big on reading, this kind of exhibitions helped me to learn and digest information a lot better.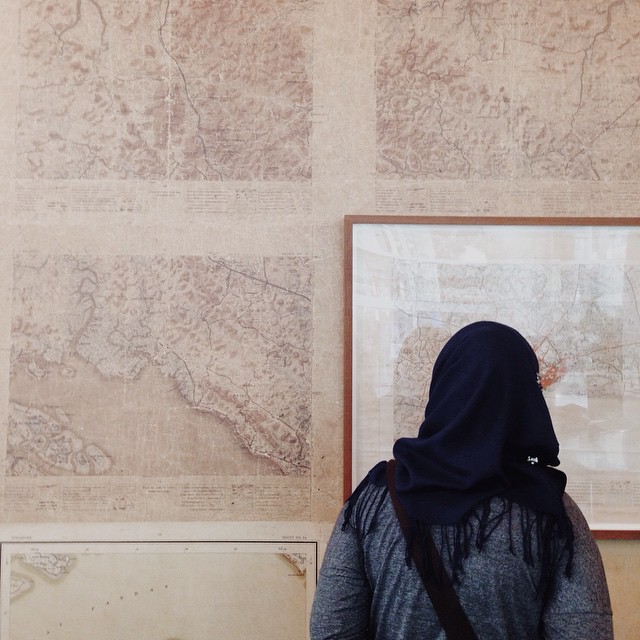 My front-end skills are always tested wherever I go, you see. Shaza decided to use her meticulous designer eyes to pick some difficult designs on the walls of the exhibition and asked me to describe the HTML/CSS structure needed to solve them. Needless to say, there were lots of border radiuses involved.
Zana decided to laugh at my misery and documented the situation.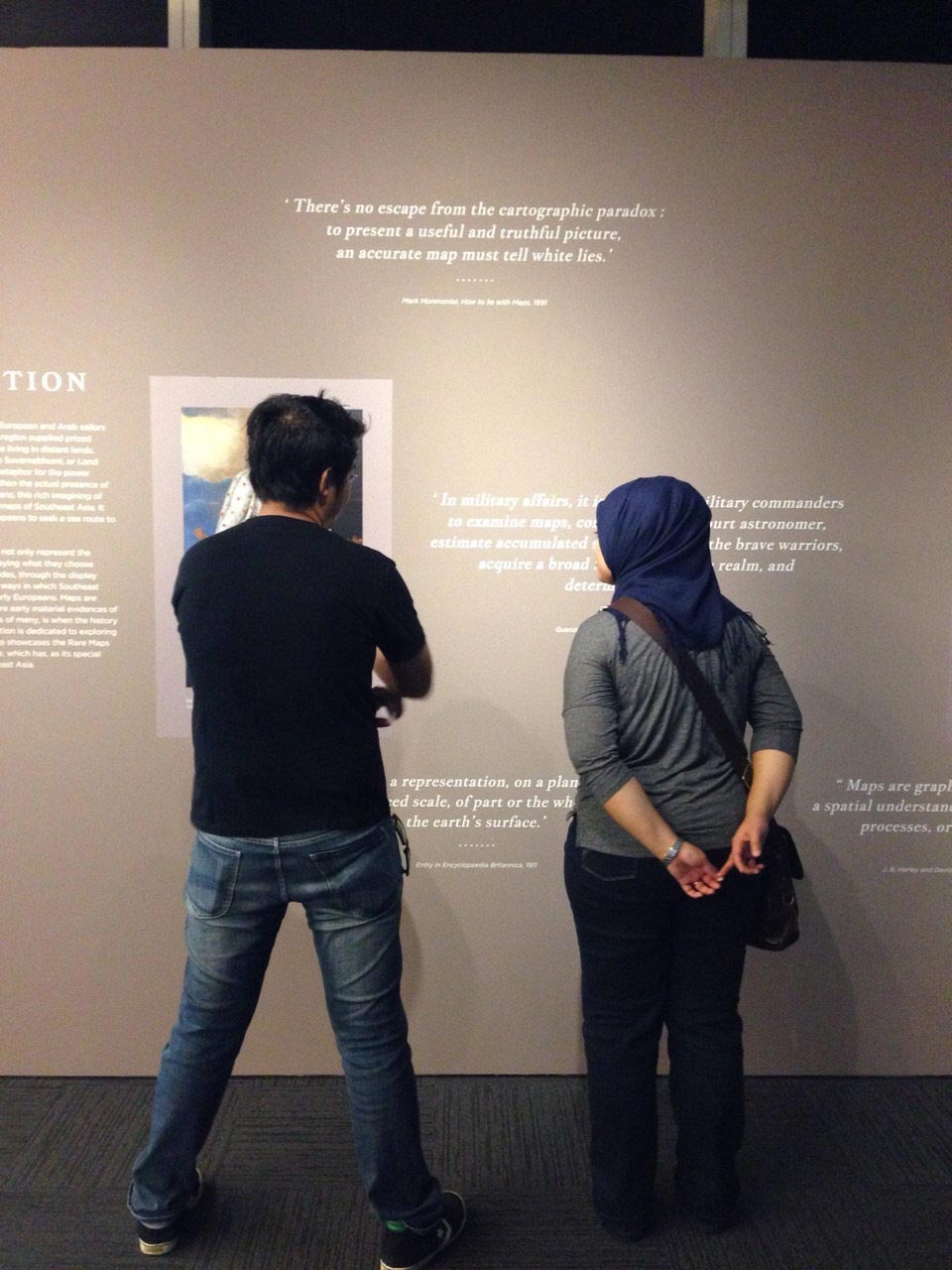 All the way to Orchard Road
Orchard Road is a huge tourist attraction and the most popular shopping enclave in the city street. I love how despite it being a whole stroll of shopping complexes in this green city, walking amidst the heat is still bearable. The street is clean and it is lined with trees and plants all around. This concept of green city is something many Southeast Asian countries should be able to adopt more.
Watching Sarah Kay & Phil Kaye
I had never been into poetry my whole life, let alone watched one. This is such a refreshing experience.
I have decided that:
Poets are cool people. They write beautiful words, and not only that, they touch our hearts with those words. That was not an easy task.
Serendipity is even cooler. Sarah and Phil are not related, not married, not dating, however they share the same last name, both of them are Japanese-Jewish and before meeting in college, their lives had actually intertwined more than they could ever imagine & they had never realised this before!
While watching Sarah Kay and Phil Kaye performing, I had no idea how many times I said to myself, "goodness, so much feels."
During the show, Phil said, "In this room, there are at least 5 people who had no idea who we were and were dragged around by their friends to come watch us performing. Hands up to those people!" so I put up my hand while grinning sheepishly. During the meet and greet session, Zana and Shaza once again dragged me to see Sarah Kay and Phil Kaye and told them about me being one of those 5 people who were dragged along! It was so funny.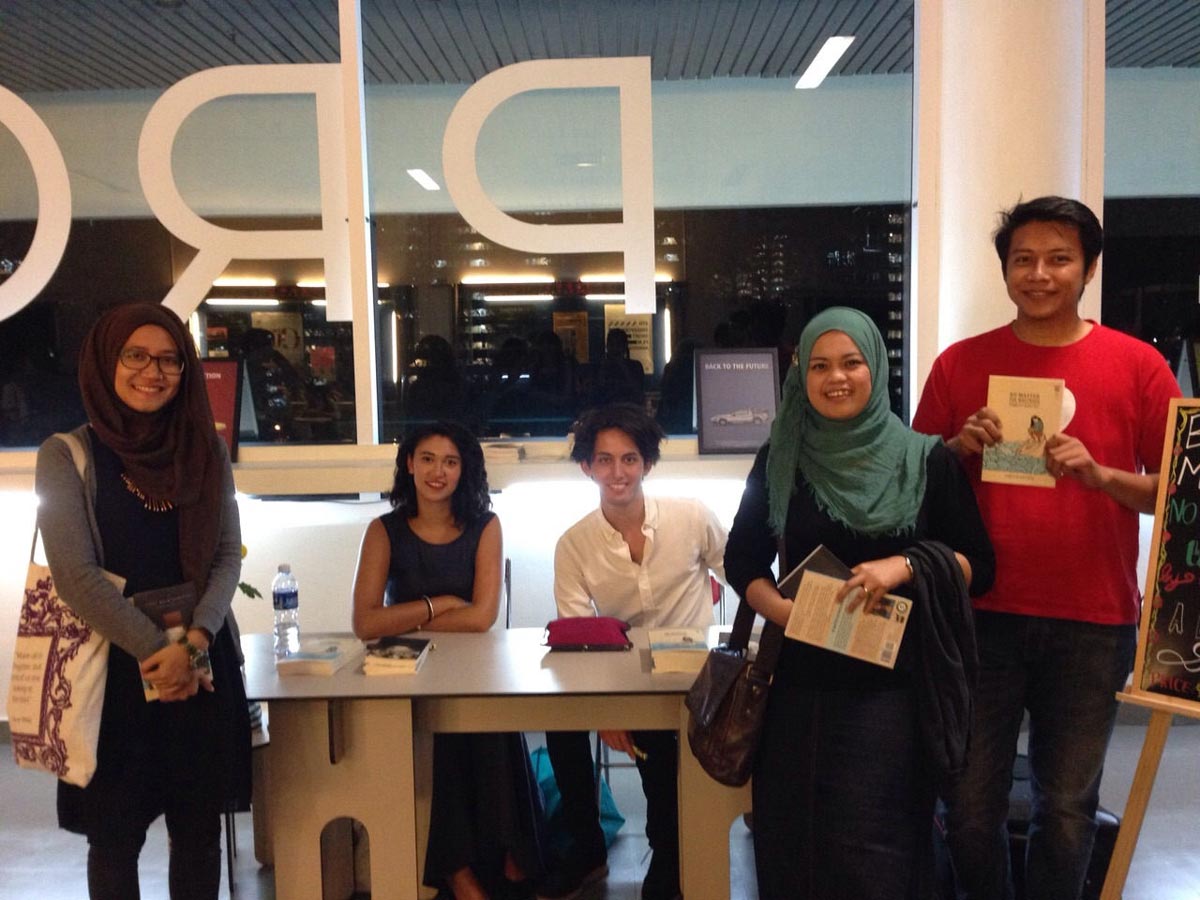 Shaza bought me one of their books, No Matter The Wreckage and the three of us read the poems together on the flight home. Thanks Shaza!
Which one of their poems is my favourite, you were asking? Well, it wasn't from Sarah or Phil though. It was from one of the local poets opening for Sarah Kay and Phil Kaye – it was a poem called A Love Letter to the Magikarp. As you can see I am a huge fan of Pokemon!
Day 3: A room full of childhood memories!
Remember the first day when I mentioned about Children Little Museum? We were finally going to visit it today!
Upon walking into the humble museum, I was transported back to my childhood. You can see many traditional village games like congkak, marbles, the rubber bands tied together for a game called zero point and so many more. They also have toys like tin robot, some creepy-looking dolls, hand-made wood rifles and swords. It's not limited to toys and games, they also have strollers, some makeshift barber shop, elementary school tables and chairs, drink stalls, enough for you to re-live your childhood. We were so elated.
Before leaving the museum, I bought a pack of glue balloons that I used to play during my childhood time. It is sticky and you have to blow it carefully through a small straw. Here's how it works:
Never the last
It was time to leave Singapore, unfortunately. But I can assure you this will not be the last time I visit Singapore.
This was my first international flight and I got so excited seeing my first international stamp on my passport. Traveling allows me to open my eyes and learn more about the culture, history, walks of life and the lifestyle of other people in other countries or regions. It allows me to venture more out of my comfort zone, having to navigate a space entirely new to me and having to interact with people of whom I have never met before.
Will I travel again? Definitely!
Where to next though? Feel free to drop your suggestions in the comments!
*The first person who caught the reference shall receive something special from Stampede!