The team meeting up
Last Friday (25th November 2016) marked the first time Stampede got together, physically at one place, and at the same time. If you didn't know already, we at Stampede work remotely from various places around Malaysia along with other parts of the world. For instance, we have Viki from Hungary and Tony from Indonesia. Both flew down to KL just for this meet-up.
While we have met Tony before when he flew down last year, this marks the first time we were meeting Viki in person. She flew all the way from Budapest to meet us.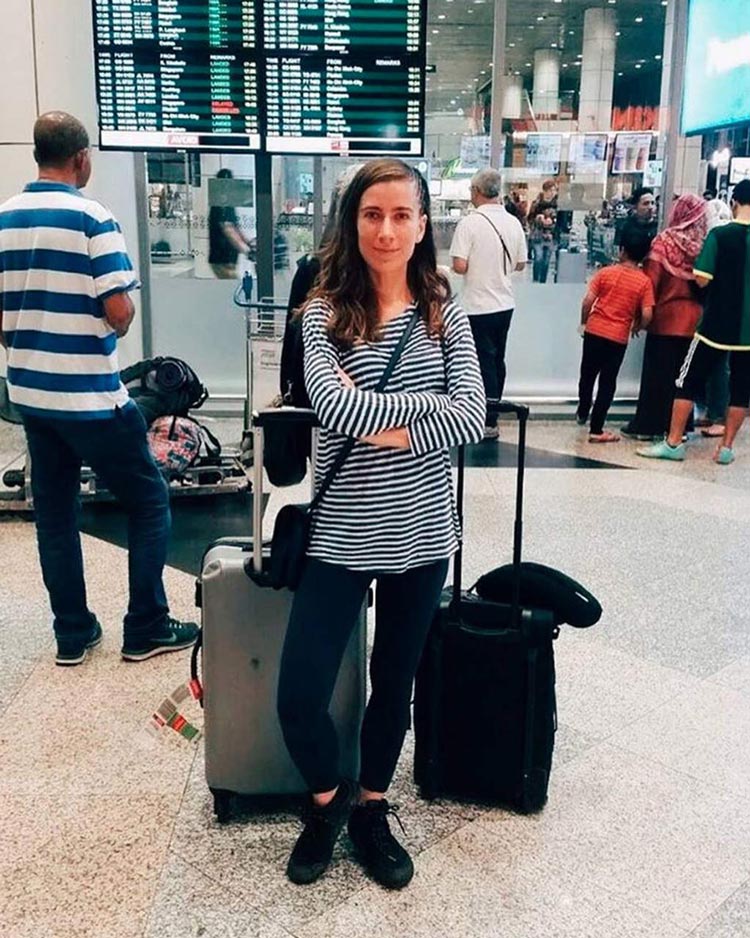 Viki arrives in Malaysia!
The reason for this get-together was to attend the JomLaunch 4 in Kuala Lumpur along with having Stampede-related meetings and just plain having fun together. Stampede was invited to JomLaunch 4 because of the voluntary work we did for the JomLaunch team. We designed and build the entire website.
The first thing we did as a team was to have dinner, which we did at Bangsar, KL. We ordered a variety of dishes and everyone dug in to their heart's content. The tom yam soup was particularly good.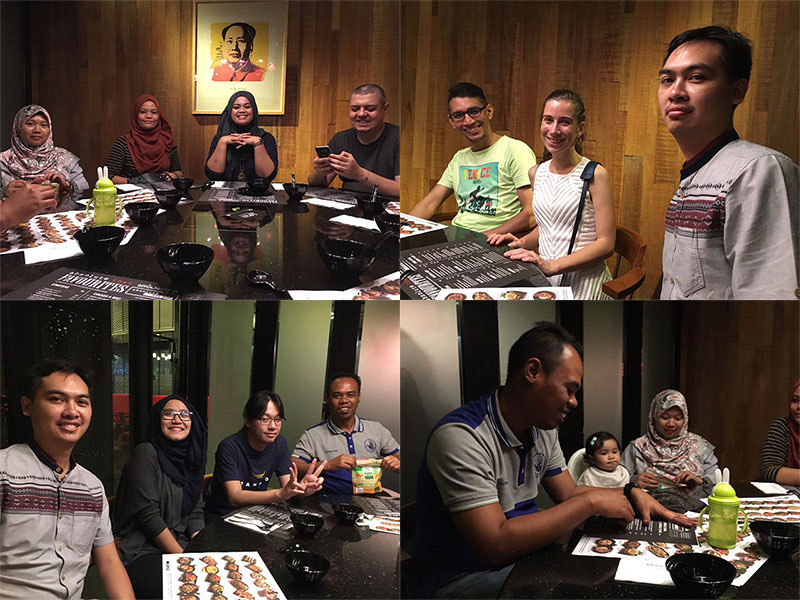 Stampede Dinner with Thai Food!
Once we had our fill, we proceeded to the condo that Shaza booked for us via Airbnb. This location was in the heart of KL and you could see some great sights at the height we were at, floor 41. We dropped off our luggage and got the needed rest for the following day's event.
One the highlights of that night were the fresh shrimps that Iwan caught himself and prepared for us. You won't find it any fresher and more delicious than this. It was definitely a great snack to have to produce great dreams that night.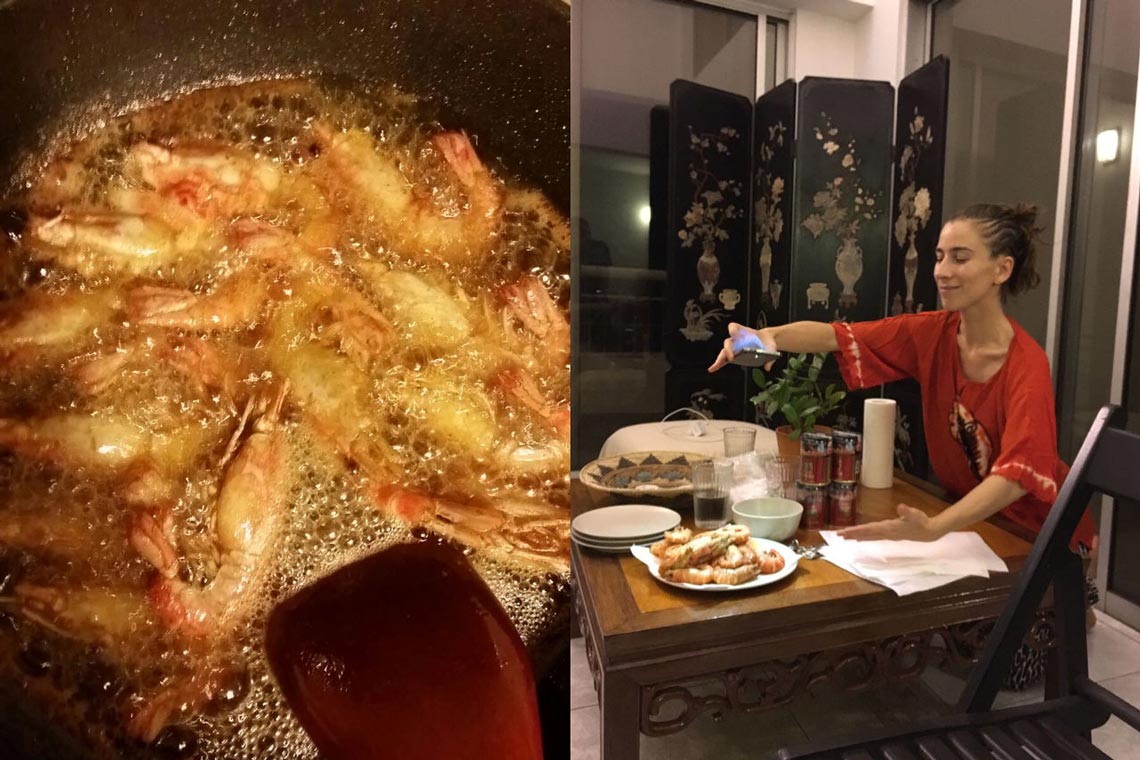 Fresh cooked shrimps by Chef Iwan / Viki taking that honorary food pic
Event day, JomLaunch 4
Saturday happened, and we woke up extra early so that we could get first pick of our seats before the crowd moved in. The sun rose earlier that day and we could see it glowing behind the tall buildings of the city. It was a great sight.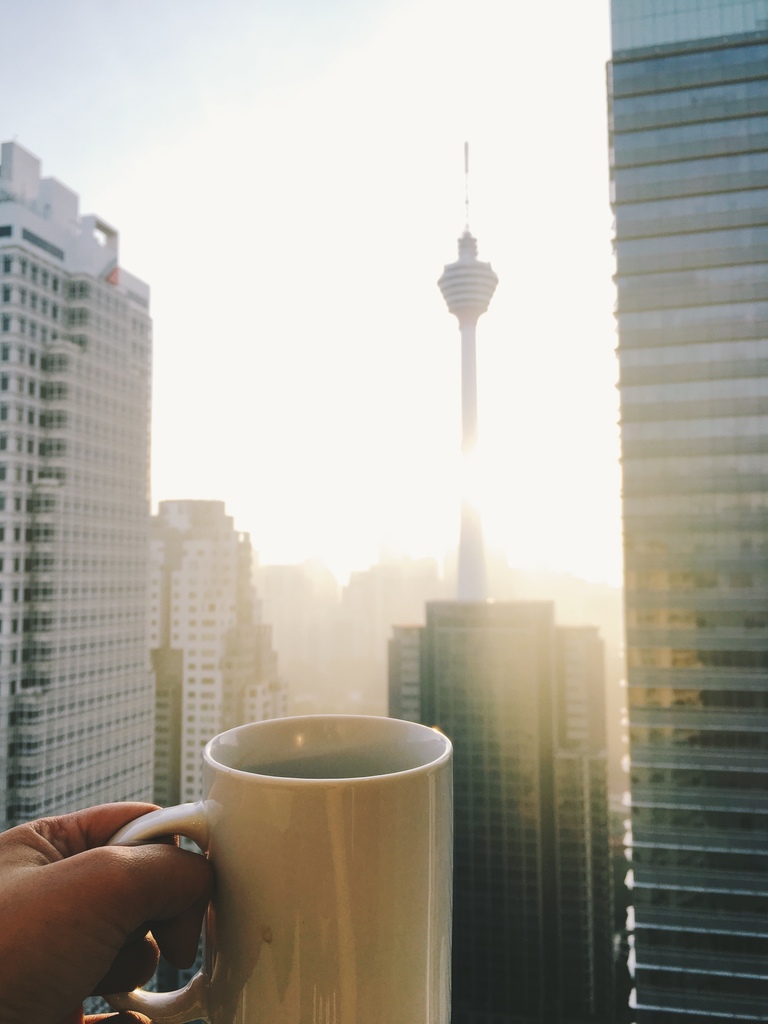 We woke up to this the next morning!
Hopping into two separate vehicles we arrived at the venue earlier than expected. The event staff were still setting up so we had a moment for a quick breather to look around. When the event opened, there was an influx of people getting themselves registered to collect their goodie bags. We noticed that the JomLaunch team had their hands full, so we decided to help them out for a bit.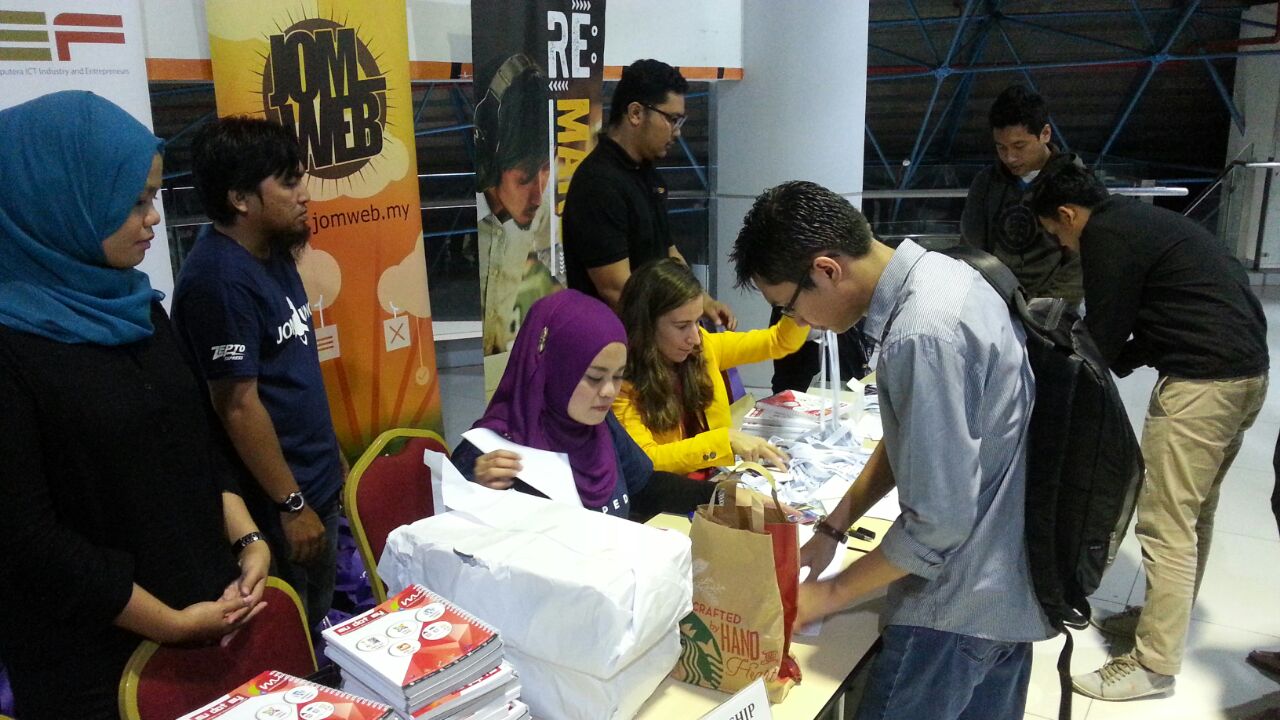 Shaza & Viki helping out at the reception
Once the crowd had finished moving into the event hall, we followed suit and took our seats. Here's a quick explanation on what JomLaunch is about. It is an event where participants showcase their awesome ICT (information and communications technology) idea. This can be an explanation of how their system works but most participants brought working prototypes to the event itself. Some of these were ready for public usage. In total, this year JomLaunch 4 had 18 participants. The event started at 8.30 AM and completed by 5.30 PM.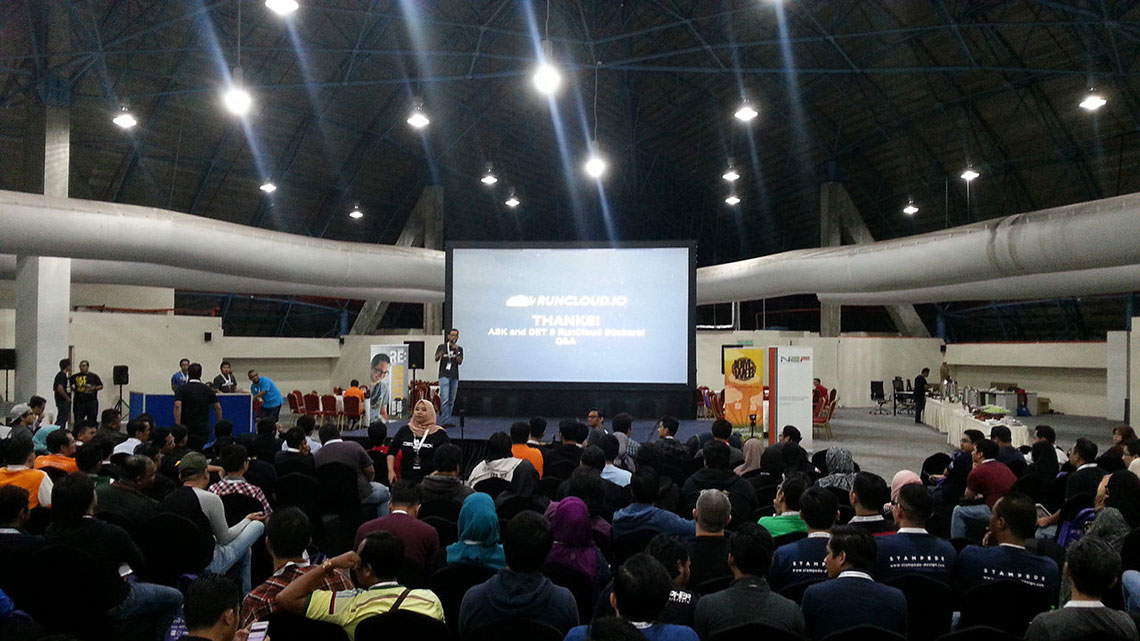 The crowd at JomLaunch 4. Can you spot the Stampede team?
The presentations from each team varied from malware protection to a 3D education game. Here's a list of what was presented during JomLaunch 4.
Eraxen Endpoint Protection – malware protection
MMS – motorsport / cub management system
RunCloud.io – competitor to ServerPilot.my
Bytetuta – AI bot for muslim lifestyle
Mytix – venue ticket sales management
MyClinic2U – clinic management
Ninja iDempiere – plugin for Idempiere
Splate – Laravel SaaS boilerplate
Soding – talent search and headhunting
WhatsTivity – social media platform
Telebuzz – telegram bot
CerdikApp – communication and monitoring tools for students, parents and teachers
MInD Automated Vehicle (MAV) – automated guided vehicle (manufacturing)
RobotJualan.com – bot for sales
EksploRazi – 3D education game
Terapi.my – Uber for home spa service
GO.my  – travel assistant
HireMe.my – platform to build and share resumes
In the end, the event was a success with every participant getting their time to showcase their ideas. The winner of this year's JomLaunch was RunCloud.io who's team built a platform for easy server setup. They were awarded RM 1,000 in the form of a check.
Meeting people
Another thing we like to do at these events is to meet up with other people from the industry. After a year or two, you'll start to recognize many individuals, start-up founders and their key team members. Sometimes we bump into people who are fond of the work we do and want to get to know us better.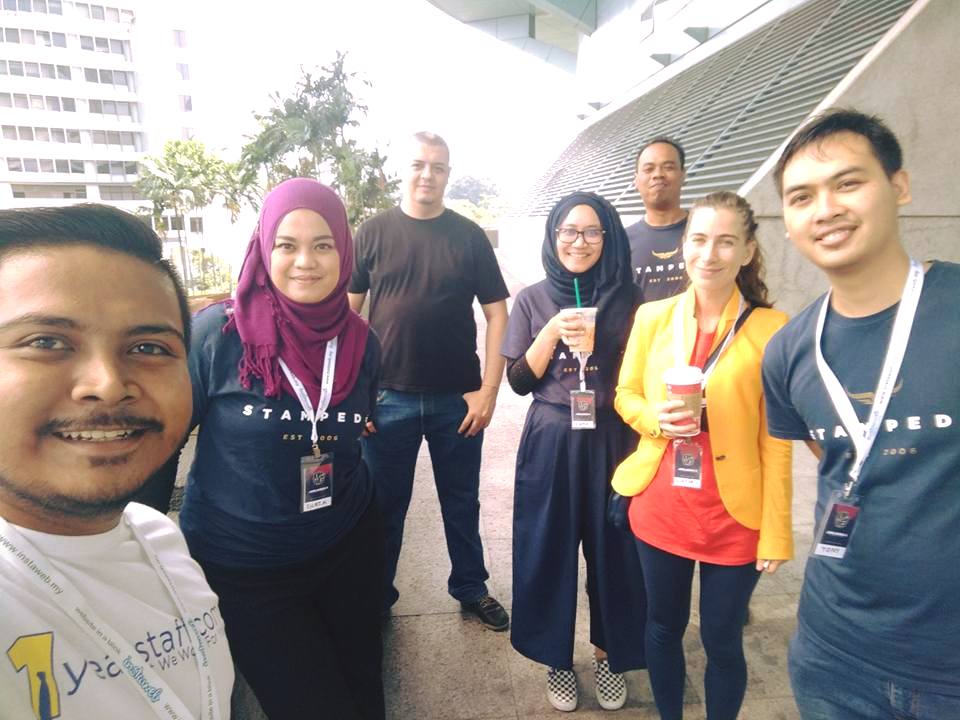 This is Fachrul (left), who got us together for a wefie
It's really great to know we're appreciated for the work we do as we put a lot of effort, thought and heart into our work culture.
Close-knit community
It never ceases to surprise us how close-knit the JomLaunch community is. The presentations of each team were well thought off and presented rather casually. This can be seen in the past 3 JomLaunches as well. The organizers did their best to brighten the atmosphere by inserting a joke or two in-between presentations. As the day was a long one, many present were feeling tired at the end of the day, but those jokes helped perk them up again.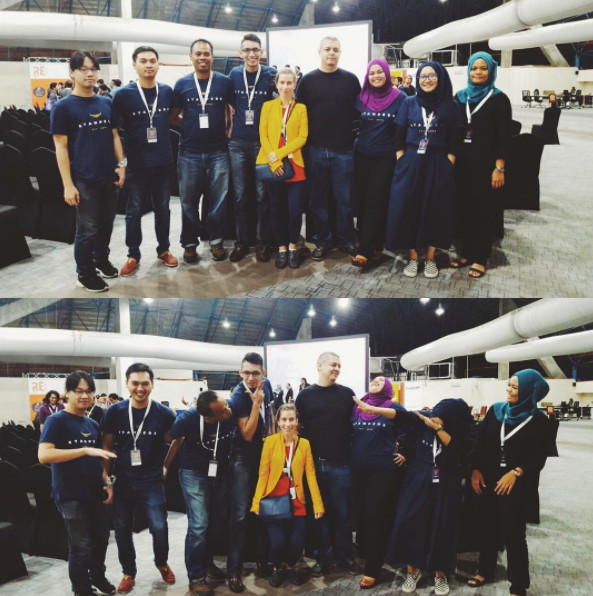 Serious vs Freestyle
The closing night
After the event was over, we were very hungry and on our way to dinner. That was when the JomLaunch team caught us off-guard by inviting us out for steamboat. We replenished our tummies and shared a bunch of conversations with one another. Thanks JomLaunch, we look forward to what's in store for next year!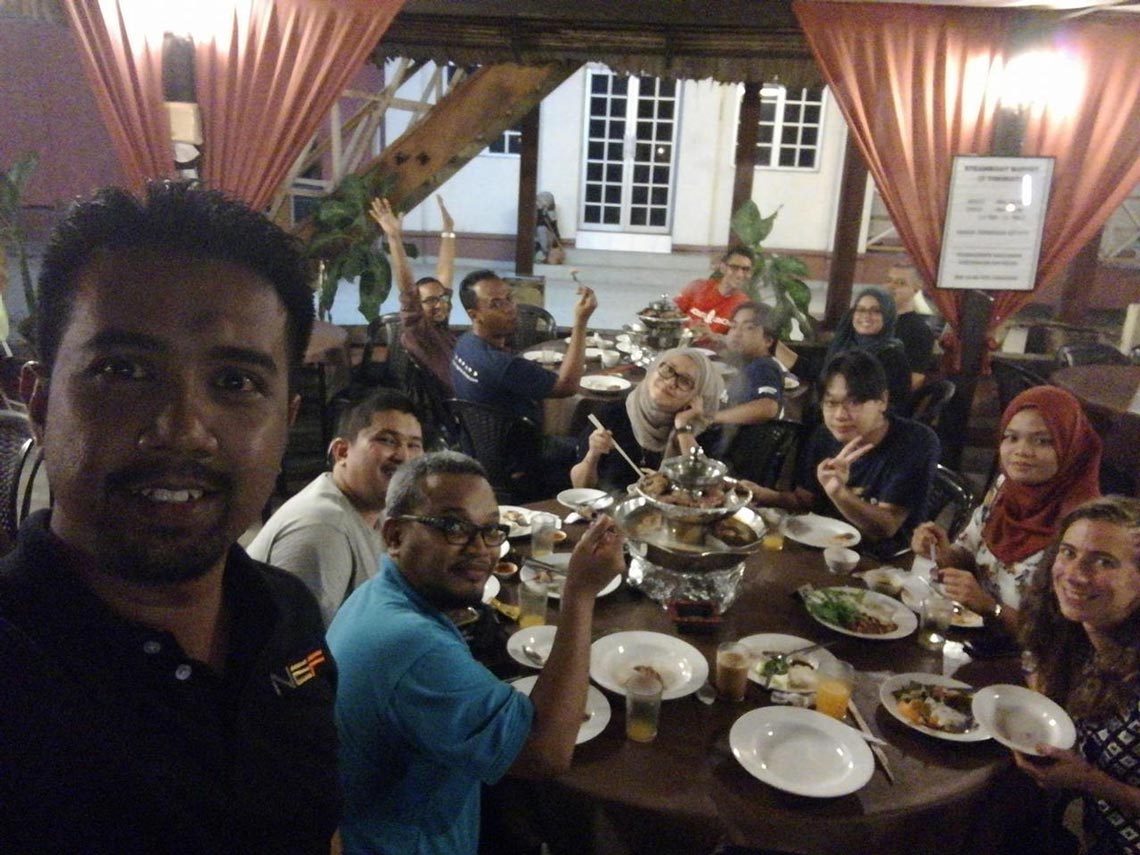 JomLaunch and Stampede having an awesome dinner