Hi, my name is Tony Sanjaya. I come from Bali, the island of a thousand gods, living in a small city called Payangan since I was born. Payangan is a sub-district of Gianyar. How does that work you may ask? Imagine Smallville, and Gianyar or Denpasar is Metropolis.
And I am Superman. (I'm sorry, let's get to the point…)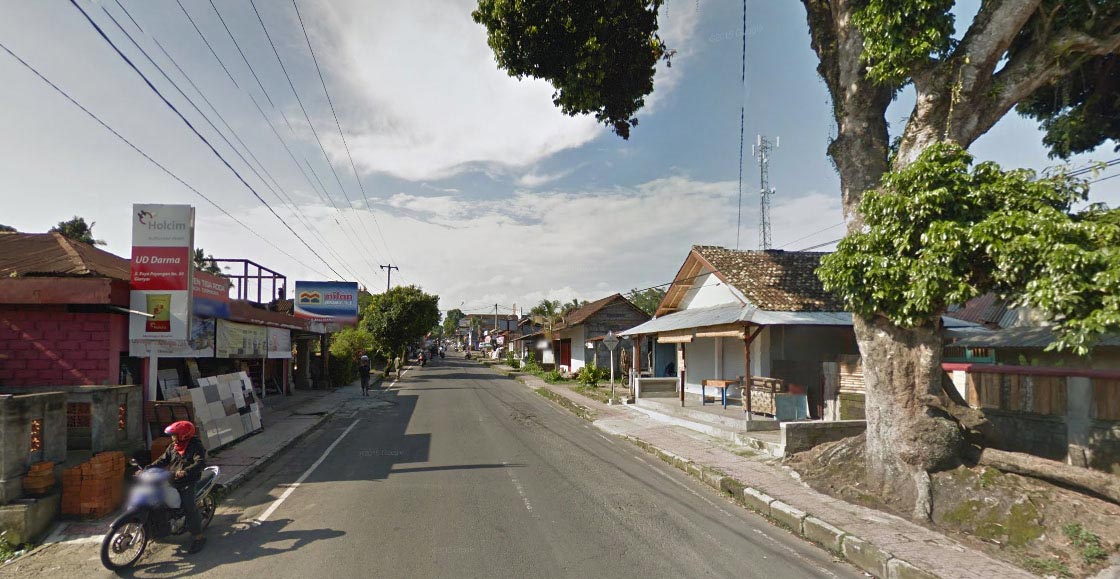 Honestly, in Payangan we do not have much points of interest if compared to other towns in Bali, let's say Ubud, which is the neighbouring city of Payangan. We don't even have fiber optic internet yet, due to lack of demand. In 2010, our population was only estimated to be at 41, 164 people.
However, small towns like ours do have their own strong suits. I mean, with a name like 'place for the gods', it's quite neat for starters.
Place for the gods
The word Payangan came from the word Parahyangan, which means 'place for the gods'. In the history, there was this guy called Rsi Markandeya, a Hindu priest, who did his pilgrimage all the way from Jawa to Bali. In his journey, he built many holy places (parahyangan) to worship the gods. To honour his journey, the place is called Parahayangan, which soon turned into Payangan probably to make it easier for people to pronounce.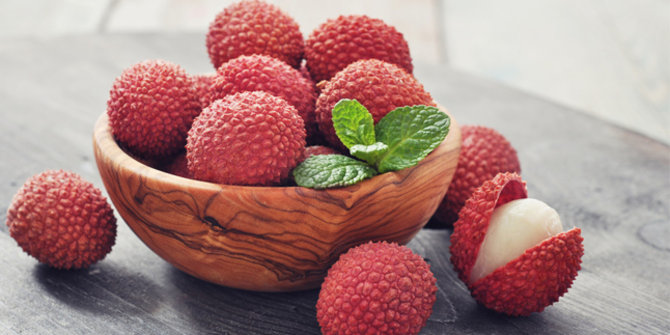 In the past, Payangan was very well known as the source of lychee. We used to have a lot of lychee trees, including those in front of my parents' house. According to my father, lychees from Payangan were very good and sweet as the seeds were imported directly from China. They were gifts from Chinese immigrants to the King of Payangan. However, it has changed a lot these days – we have not much lychee trees anymore. Which is sad, because, who doesn't love lychees?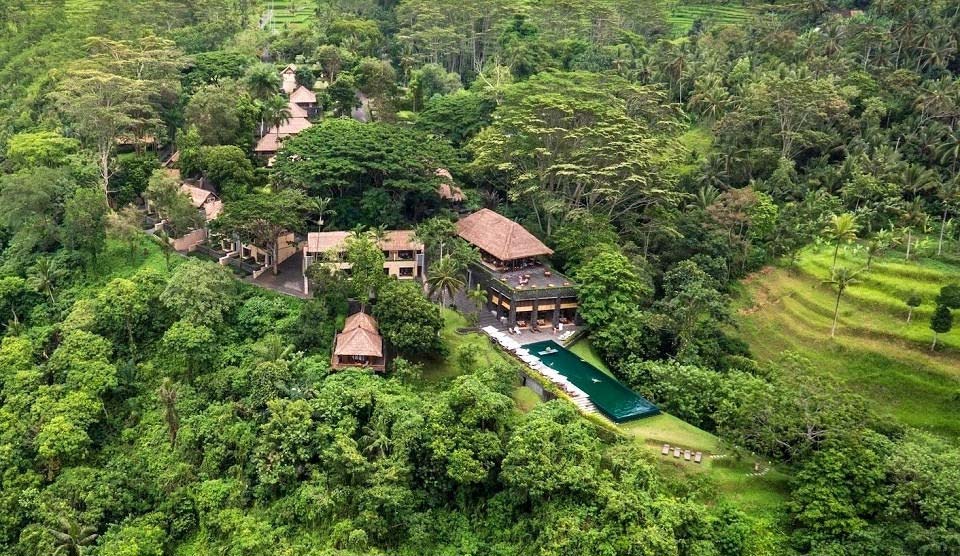 However, you can't beat the scenery in my city. Payangan has this wonderful scenery of paddy fields – large, green ones. Easy on the eyes. It has become such a big advantage to the tourism industry as some of big hotels located in Payangan are built around the paddy fields to use them as the point interest. Payangan, as you can see, is not as famous as Ubud, so the amount of tourists who flock here (I am not sure if flock is the right word) are not as much and specifically come because they already know of Payangan.
Another thing is due to obscurity of Payangan, these hotels would publish their location as Ubud, instead of Payangan. I am sad and feel this is unfair because one, it is misleading to the tourists and two, because Payangan by itself is a beautiful city with its own places of interest, so we should be able to magnify those.
The weather in Payangan used to be chilly, although not as cold as the temperature in Kintamani. However due to the climate change, after 2010 onwards, Payangan's temperature could reach 28 C or even more. It feels quite stuffed and humid, like we are in Denpasar now.
Food I grew up with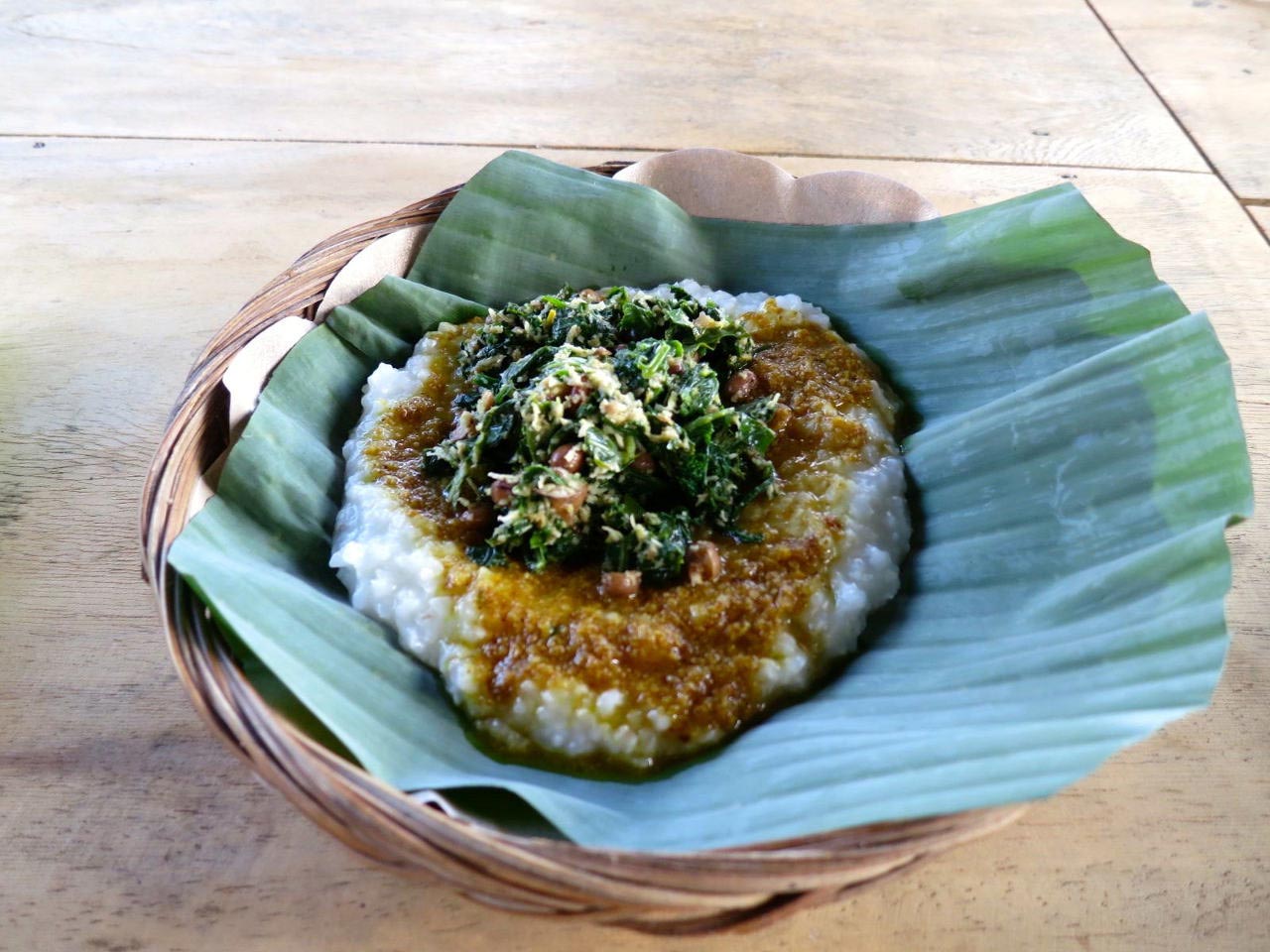 It wouldn't be complete to talk about one's city without mentioning its staple food!
As for me, Balinese rice porridge is my favourite breakfast. There is this stall near my house that sells the most delicious Balinese rice porridge ever, one that I had been frequenting since childhood. What we usually have in the porridge are shredded chicken, roasted coconut, wild ginger, lime and scallions. It is the best comfort food one could have.
What's special about Balinese rice porridge is that it is placed inside one big piece of banana leaf. There is no need to use a spoon while eating Balinese porridge, as another banana leaf is rolled to form a spoon!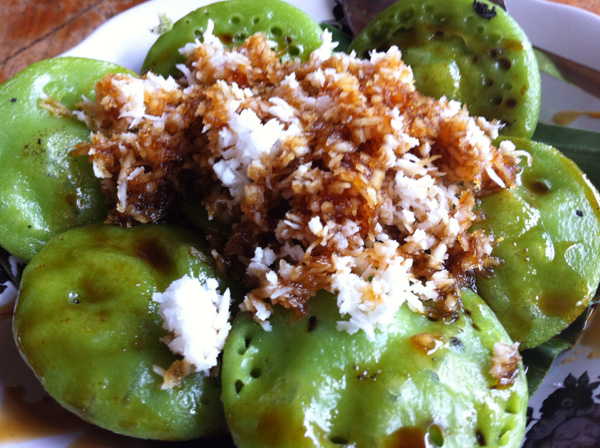 My second favourite is  a snack called Laklak. They are some sort of pancakes made of sticky rice flour, mixed with coconut milk and the extract of suji leaves, smothered with brown sugar. Laklak is best eaten with hot tea during the evening.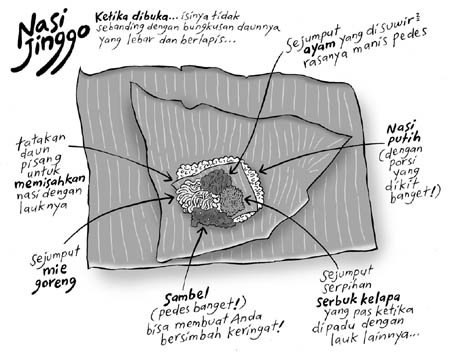 Another one of my favourite is called Nasi Jinggo. Often sold in the night market near my place (the night market is called Pasar Senggol Payangan) Nasi Jinggo is made of fist of steamed rice coupled with slices of tempe, shredded chicken, noodles, tasty shredded coconut, and unbeatable spicy sauce (sambal) and all this is covered with banana leaves. Most Balinese waroeng (stalls) sell Nasi Jinggo, but what makes it special is the quality of sambal each stall makes.
The illustration above should be able to explain the ingredients inside every Nasi Jinggo packet.
Remote working life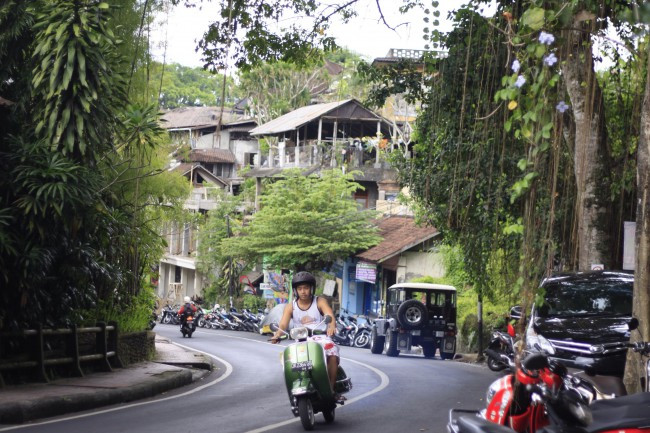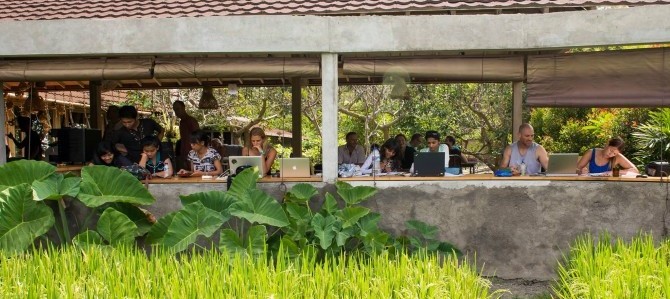 Remote working in Payangan is not exactly easy if you don't have your own Internet connection at home. There are no cafes or restaurants that offer wifi connection much, as we are a small town with modest population.
However, if you are up for co-working, the nearest town that can offer that would be Ubud. It is about 10 km, which would take about 20 minutes away from Payangan. There will be loads of cafes and restaurants offering wifi connection, as well as this nice co-working space called Hubud.
It also isn't easy to buy computer stuff in Payangan. The nearest city that would offer loads of computer stuff with its own mall, perhaps, will be in Denpasar. Hence I prefer to shop my computer gadgets online. It does come with one disadvantage still thought – delivery services like JNE and TIKI do not deliver to my town. They only deliver all the way till Ubud. So what I do is I would let them to drop my delivery at a relatives' place in Ubud, and I would go pick up from there.
Will you come?
Well, that's a glimpse about my town, Payangan. Although a lot of things here make you struggle more than living in the big cities, Payangan does have a lot of its own advantages – quiet nights, beautiful scenery, happy, genuine people, so it will not matter where I go I would always take pride in this place for its beauty and calmness.
If you are ever in the area, let me know and I will show you around!