According to the latest statistics in Insurance Services Malaysia Berhad Statistical Bulletin, a car in Malaysia is lost every 24 minutes. What's more, less than 1 out of 10 cars are recovered and returned to the owners. In addition, Malaysia alarmingly ranks sixth in the world when it comes to car theft, with some 312 cars stolen for every 100,000 people.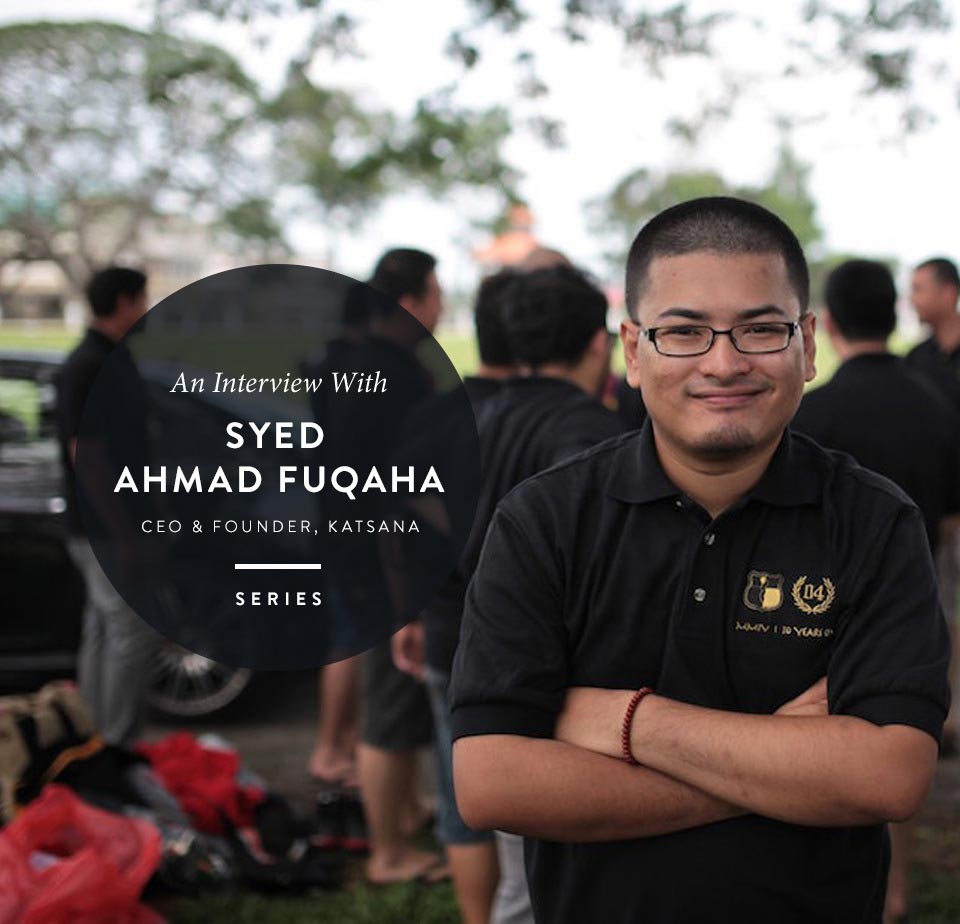 Starting with remote made the journey possible for Katsana. Give your team flexibility. Results are what truly matters.
Aware of this, it gave Syed Ahmad Fuqaha, or Fuqaha for short, to come up with the idea for Katsana, a startup that offers GPS tracking and fuel monitoring systems for vehicles, complete with data analytics capabilities. Basically, users are able to track the location of their vehicles through smartphones and ensure their safety.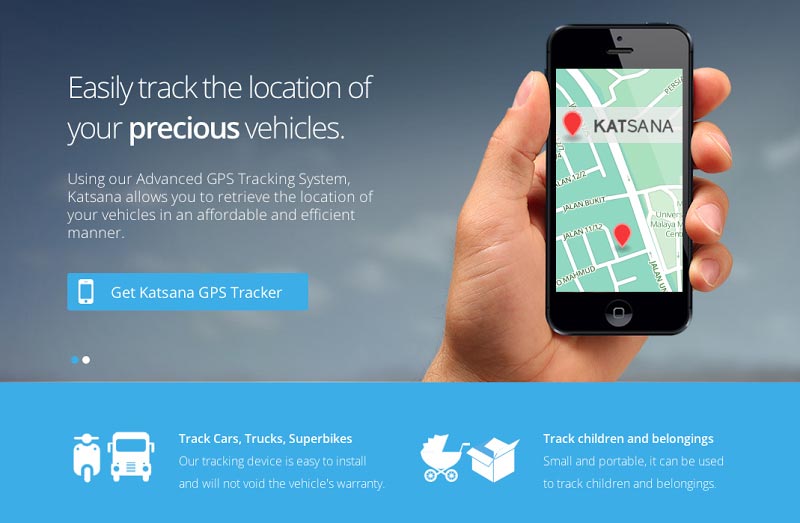 The former project manager for JomSocial co-founded Katsana with colleague Mohd Irwan Ibrahim, after they both left the company. Commercially launched in 2014 mainly targeting enterprises, Katsana started ambitious yet humble, remotely.
We speak to Fuqaha, who arrived for the Skype video call very animatedly — about his remote working setup, his work ethics and many more.
Hi Fuqaha, thank you for making time for the interview! This is as part of our Working Remote series — we would like to share with our readers that remote working is possible as long as we get things right, and seeing as you have conducted Katsana brilliantly while on the run, we thought it'd be awesome to speak to you!

Thank you Zana! Happy to speak to you and Shaza as well.

So tell us about how Katsana starts, and the current setup?

Certainly.

We are quite a small team, currently at around 6-7 people. When Katsana first started, we hitched a ride at the former JomSocial office. This lasted about a year. JomSocial was also where I met my co-founder, Irwan, who came from electrical engineering background. He brought the hardware expertise in Katsana, and I, with an architecture background, am more towards strategising, researching, proposing etc. you know, the things founders do.

It was during the first year and we were bootstrapping as much as we could, so we all worked remotely most of the time. There were only three of us. At that time it seems such a big thing for businesses to have an office, which, while we do not see the necessity, we understand how clients and customers might see the value in having one. So what we did during that one was we applied for a virtual incubator at Technology Park Malaysia (TPM) and we got the mailing address along with some credibility by association to TPM.

That's really clever. So during the year, certainly there were a lot of research to be done – market evaluation, analysis, etc. How long did you take to come up with a concrete plan before the product is launched?

So this is interesting. What we did is that we got our website launched first, 8 months before the product is launched. We make sure that our design ideas need to mature first. There were loads of questions involved — will this work, how will this data help us, test test test — before we move on to the engineering stage. As Katsana is not only a software startup, but also hardware, the engineering team will also work on its own strategising.

During this time, while we were doing pricing research, we were already generating some leads. Surprisingly, we had so many enquiries during this stage. We sent them emails for pre-sales with discounted price. Once the MVP was out, we lived on the revenue for a couple of months after that.

We had been bootstrapping and relying solely on revenue before funding. We only started to grow even more rapidly in 2015.

Achieved all of these wonderful feats remotely, that's amazing! Have you always been remote though?

I guess you can say so, until now. After we moved out of JomSocial's office, we were based in MCOBA Building, next to Midvalley. As every KL-ite knows, Midvalley is basically Hades for traffic, so most of us choose to work remotely. We found that it is more productive rather than having to commute and brave the traffic everyday.

We do have an office now, but the remote working setting remains. Most of us come to the office at most twice a week, usually when we decide to have a strategy meeting or discussing something more in length — something beyond features, driver behaviour or handling fleet.

The rest of the time, we work wherever we are comfortable with.

How do you find your team's productivity when you work remote?

We have always been remote, so it might become an understatement that we might not know any other ways to do our work rather than always on the go. The setting makes the journey possible for Katsana to become where we are today.

What I found out is that, as we are result-oriented, working remotely has given my team so much empowerment to produce good results every single time. So don't worry, hire good people, give them goals, and watch how they amaze you.

Do you think the setting might change once you are funded?

That's a good question.

It might get stricter, but over time I think I'd still want that kind of flexibility for me and my team. It has worked wonders so far.

Is there any tips on remote team management and motivation?

To be honest, it needs to be right from the start. We make a point to only hire good people, those who are self-starter, resourceful and self-motivated. We also do not have the luxury of training, hence we hire people who recognise that they can do great things here. These people who believe on your vision and cherish small small achievements as we do. I am the type of people who believe achievements, no matter how small, drive more achievements.

I also believe Malaysians are capable to do amazing things, we just need some nudging. Work on realising their own potentials and magnify what they love doing into skills.

Most of the people who are in Katsana are those who we have known and worked with, so we know everyone's working styles — one less thing to worry about.

We also stress on the importance of adhering timelines and milestones. One delay could lead to another, so we make sure to make sure we follow the schedule as closely as possible.

Is the concept of flexibility familiar to other startups, as far as you know?

To be honest, I have no idea. But if they haven't done it yet, they should.

It is nice to be able to see everyone in the same setting and in the same number of hours, but it is another level of satisfaction when are not in the same room with your team and you know things still get done.

Do you use any communication tools between your team?

Where do you think is a good productive place to do work besides the office?

For me, definitely not at home. I try not to make it a habit to work from home where I should be relaxing.

I like to work from the cafe, as I find the ambience sound helps me to concentrate better. The rest of the team works from various places ranging from home to cafes to co-working spaces. It depends on their preference.

When you started Katsana, do you have an existing business model?

When you think about it, it is interesting because similar GPS tracking companies as ours are trading companies — they buy the hardware and then sell. Katsana is a service company — we don't sell products, we develop our own solutions for the users.

The strength of Katsana lies in its collection of data and its algorithms, which play a critical role in behavioural analysis and driver scoring. We crunch live data from vehicles, understand drivers' behaviuor, summarise, and score everything in an actionable way.

We now handle data originating from over six million locations in Malaysia daily.

Six million locations—that's a lot! One final question: How does your daily life look like?

I wish I could tell you this better, but to be honest, I don't have a fixed schedule so far. But I am working towards developing a routine, mainly now trying to wake up as early as 6 am, go jogging and all and head to the office at 8 am.It's in the works, so I'll let you know once I get to it. (laughs)

Gotcha, Fuqaha. Thank you for the interview, and we'll see you around!
Currently installed on over 1,100 vehicles in Malaysia, with 90 percent of them owned by firms, including the likes of Sime Darby Hertz, Metrobus, K- Line Logistics, and H&M; Katsana plans to tackle the motor insurance industry next.
With the industry collecting an average of US$2 billion per year in premiums, Fuqaha says to expect 72 percent of that or around US$1.4 billion to be paid in claims.
"We want to reduce this claim loss, while at the same time becoming the catalyst for safer driving in Malaysia," he says. "We want to ensure that good drivers are rewarded. If you're a good driver, you should get a much lower premium. It's that simple." Fuqaha tells Tech in Asia.
Visit Katsana here for more information.