(Here is a note to start with: rollerblading is not a valid term. 'Rollerblade' refers to a brand of an inline skate, while the act itself is called inline skating.)
Me attempting the soul grind technique
During the weekends, I spend most of my time inline skating with my friends. We are part of an official inline skating club established in 2010 based in Langkawi, Malaysia called SKROLS. Most people thought SKROLS is a combination of the word 'skate' and 'rolls', but it actually stands for Sukan Kasut Roda Langkah Sukar.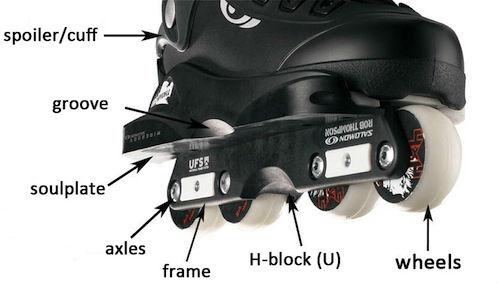 Anatomy of an inline skate
If you must know, there are several types of inline skating:
Aggressive
Roller hockey
Artistic
Freestyle slalom
Downhill
Recreational
Speed skating
When I first started skating in end of 2010, I chose to start with recreational skate. Recreational skate is a basic skate method with flat setup where all wheels slot are filled with same size wheels. Skating method with flat setup have more stability and speed compared to banana setup. As a newbie before, I played recreational inline skate a lot on a flat surface, just as a way to build up skills.
After about 1 year recreational inline skating, one day I decided to attempt to play freestyle slalom. Turns out that I liked it.
If you must know, freestyle slalom skating is a highly technical field of skating that involves performing tricks around a straight line of equally spaced cones. Freestyle slalom uses full rocker setup, a.k.a banana setup. This makes skating much easier to turn and also easier to perform tricks but it lacks in the stability department. Just like recreational skating, the best place to attempt freestyle slalom is a location with a flat and smooth surface. It is definitely not recommended for a newbie because it is hard to maintain balance while attempting it.
After about 2 and half years which is about last two weeks, I attempted to try aggressive inline skating. I have to learn basic movement again using flat setup. It would be completely different to turn and build speed from using full rocker setup, and I fell many times trying to get the flow before I finally was able to master it. It was all worth it.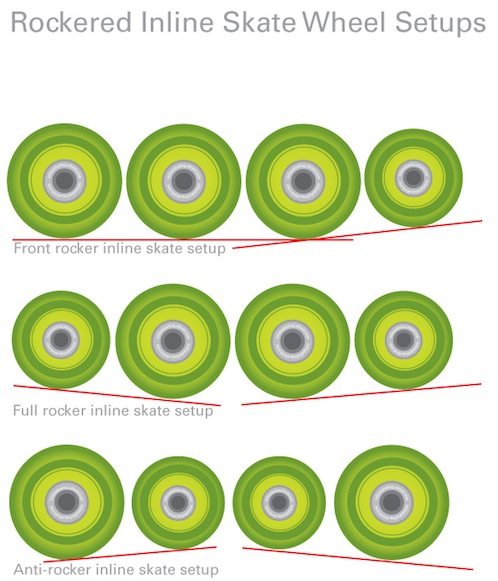 Different types of skate wheel setups
My next goal would be to attempt much more complicated inline skating methods, probably roller hockey or artistic? We'll see.
Like many other new things to try, inline skating requires a lot of courage to start. I guess it is safe to say that to play inline skating, skaters must always be prepared to fall many times, being laughed at by friends and at times, get injured.
If you have been inline skating before, what skills have you mastered? Comment below!
(Sources for reference and images: Wikipedia and Inlineskating.about.com)