When we speak to people of how our team of 8 is scattered across several places and time zones, we get the above question every single time. While a number of companies in the tech industry are still debating on the merits of remote work, Stampede has always been working remotely from day one for the past 10 years. This is a brave feat for a business owner to allow this, where managers could not monitor their employees physically, yet we had never thought this is the best decision we have ever made – until now.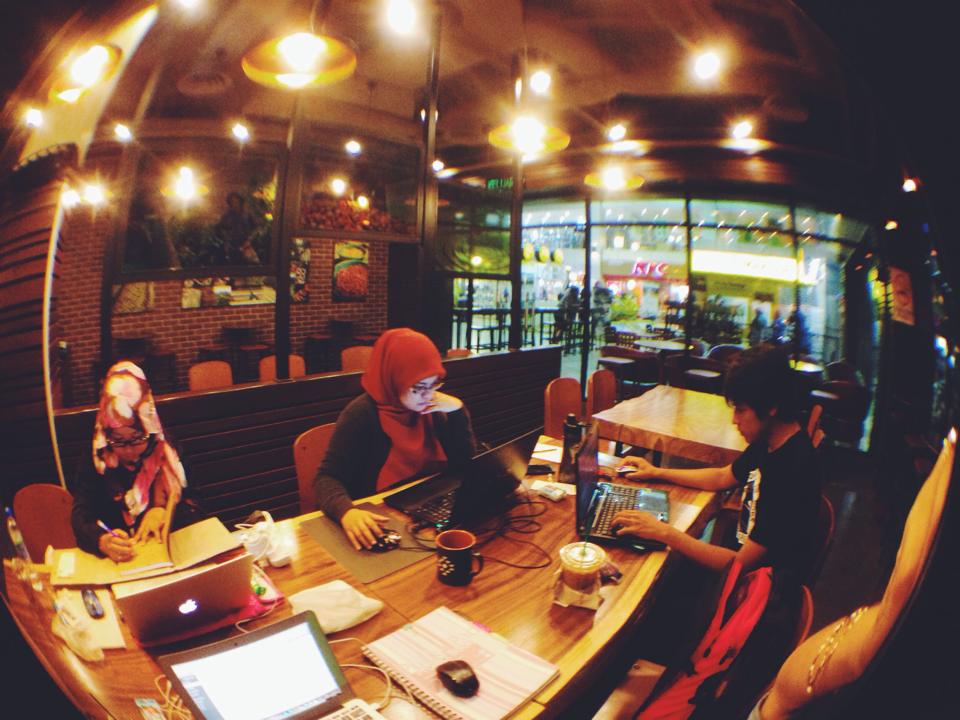 How do you run your team remotely?
Over 10 years, we have employed a number of wonderful people across Malaysia and a couple of other countries. We do not have to worry about the availability of resources, as we employ good people internationally. On top of that, we allow our team members to travel while working (or working while traveling, whichever works best!) and it had been such an eye-opener experience every single time.
On the spirit of sharing, we've decided to start our own series of Working Remotely to answer some of questions on how we got it to work. Rather than setting this as guidelines on how to run your team remotely, we shall have this as a sharing session of things we have learned about remote working for the past ten years 🙂
How It Started
Stampede had its humble beginnings starting with just two individuals, Shaza and Dov. Over the course of time, we attracted clients from the Netherlands, USA, Australia, UK, Spain, Canada and Russia. Many of them are still with us to this day, marking 10-years of partnership with Stampede. Initially some of them required design only, but pretty soon everyone wanted to join in on the HTML/CSS bandwagon.
The decision to hire like-minded individuals came to mind when Dov and Shaza started to experience an increase in workload. While they had the option to say no to new requests, at the time, they were learning so much from the work. The business and the clients were all too exciting to miss out on. The partners loved their life in Langkawi but realised the chances of finding a web developer for Stampede was slim in the tropical island. As with today where the debates are still ongoing, many people were skeptical with remote jobs, thinking it was too good to be true.
The timing was right however, because in 2005-2006, web development was entering a transitional period in Malaysia. Many young people were enthusiastic about the Internet but they didn't yet know where they would fit into the greater scheme of things. Some were already holding a dull job, others were at the last definitive phase of their studies. A few were brave enough to give the position a try.
The first job posting was quite a good hit. Several people tried out and we hired our first front-end developer, Renee Chung, because she was humble to admit her knowledge wasn't perfect and was open to learning new things. Renee has done several freelancing gigs in the past so she wasn't new to remote work and she was able to work under minimal supervision.
Since then we received applications from fresh graduates too, some of them not even aware that we're a remote company. Shaiful for example, was intrigued enough to decline a job offer from Shell and has been with us now for 8 years.
Over the course of 10 years, we have hired and also, unfortunately, let go some of the great people who had been with us. We understand remote working is not for everyone. But the ones who had been with us had contributed immensely to our experiences of building and managing a remote team.
Recipe to Run a Successful Remote Working Setup
As with many recipes, the ingredients listed are the utmost important ones: ready for everyone to tweak and add on to suit their business and team needs. Over the years, we have learned that there are four basic ingredients in running a successful remote working setup: Technology, Team, Tools and Process.
1. Technology
Mobile technology enables remote workers to do anything/everything other co-located workers can, sans cubicles and distractions. Before we jump onto the other ingredients, technology is the most basic thing needed in order to do the job and keep the lines of communications open with the rest of the team. While this might seem obvious, we often stress this often to our new hires before they come onboard.
Internet
We all know that the Internet is certainly the driving force when it comes to mobile work. In fact, remote working's rapid growth in the last decade, can be directly attributed to the growth in home broadband Internet availability and the maturity of online services and applications. The Web fuels all the technologies that make working away from the office possible and easy: email, instant messaging, video conferencing, file sharing etc.
As such, it is self-explanatory that the Internet needs to be fast and reliable to avoid any disruption when we work remotely.
A computer
Another very obvious necessity: a team member needs to have a computer that is as powerful as possible to suit their needs in the team. A designer especially, needs a powerful desktop computer with very good processor, SSDs, sufficient RAM and a good monitor to be able to support the amount of interface design work at a given time. The same applies to programmers and front end developers.
Though the majority of work will be done primarily on desktop or notebook computers, the team members should also be ready with other mobile devices such as smartphones and tablets for quick work on the go — as well as conducting internal reviews for responsive designs.
2. Team
A remote working setup will not work successfully without a wonderful team. As mentioned earlier, remote working is perhaps not for everyone. Therefore, it is important to build a team whose members are capable of functioning in a remote setup. Here's what we have learned:
Hire people who are self-initiated and self-disciplined
In a physical team, a manager can always monitor the progress of every team member. Far away from the hovering eyes of a manager, a team member in a working remote setup knows what needs to be done, once they are given the proper training, clear instructions and guidance. There is no need to check in with them every hour of the day, they will make it happen on their own.
Hire people you can trust, and trust the people you hire
It is almost impossible to work with someone you do not trust, even in a physical setting, much more in a remote one. It might get tempting to worry about what the team members are spending their time on or if they are actually working — start the process right by hiring only the people you can trust, and show trust in the people you have hired.
Hire people who can write, or train the team members to write better
Understandably, in a physical office, a lot of communications can be done face-to-face. However, in a remote setting, a lot of communication will take place in writing – email, Slack, Skype etc. It is easy to get misunderstood when you cannot convey your information via writing properly. Which is why, the team members need to be able to write properly – and if they are lacking a bit in that department, you need to train them.
Keep track of the team temperature
Remote workplaces are less social than physical ones. It is easy to get lonely when you have no co-workers to have a 'water cooler' banter with. While it is crucial to hire people who are able to cope without a social workplace, cabin fever tends to set in as we work far away from our social setting. Watch how the team members are faring, and if needed, find a way to help them to overcome this problem.
3. Tools
In a physical office, you can always round up everyone for a quick meeting around a desk if the need arises. However, in a remote setting, we automate as many things as possible to project manage our team. Fortunately, these days there are tons of online tools available to help us do these.
Here are among the tools we have used on a daily basis to run our team.
Slack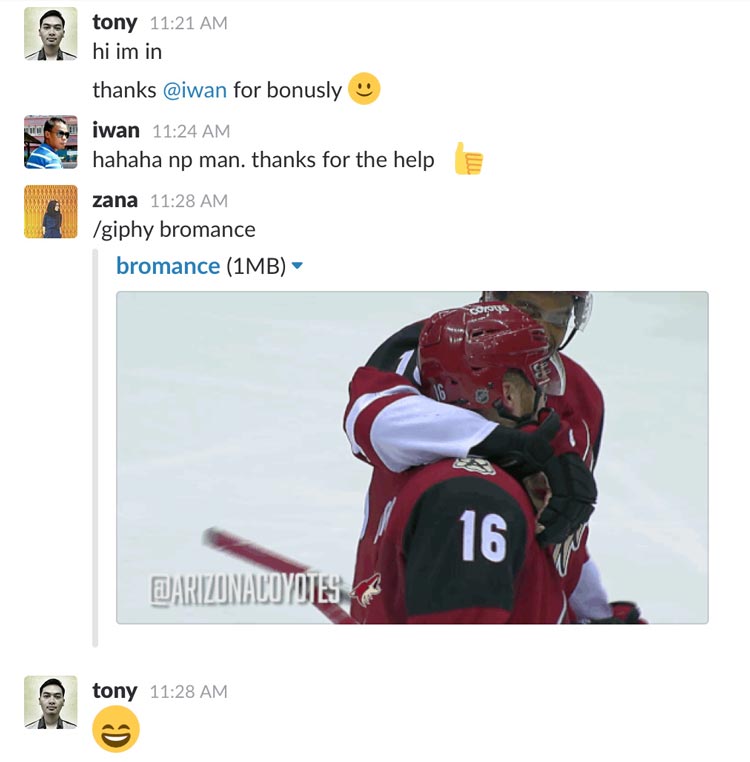 Slack is our virtual office. This is where we announce when we sign in to and sign off from work. This is also where we discuss work, Diablo, communicate during internal reviews,  praise each other for good work, coordinate get-together plans and many more.
As we are so much into organisation, we decided to create multiple channels for both work and fun. For work sections, we have channels such as #design, #code, #content, #UX, #readinglist and according to projects we are working on. For fun, we have channels such as #diablo, #gym-buddies, #ideas and also #random, where sometimes we share cat jokes, new movies trailers, trivia of the day and some tech news, among others.
Basecamp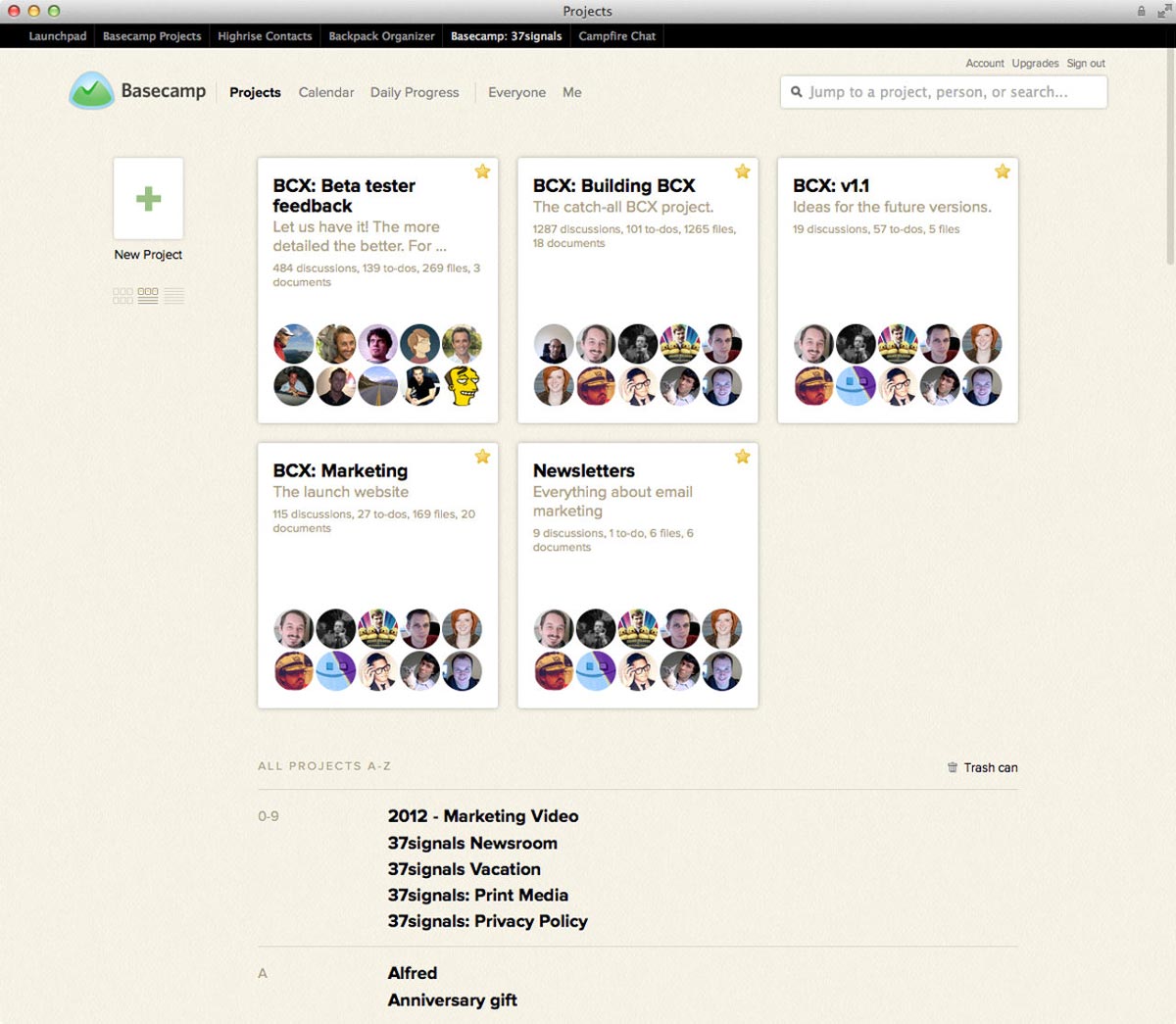 Basecamp is our main project management tool, which we have been using since day one – we decided to stick with Basecamp 2 and not upgrading to Basecamp 3 because we felt the second version fit our team and business needs better.
This is where we have the repository of all our projects – internal and external. As for external projects, the ones involving clients, we will loop in clients as well for communications. As Basecamp 2 comes with to-do lists (we love lists!), notes, messages, and the ability to categorise between team and client, they are very useful when it comes to communicating between teams in internal reviews. We have a feeling that no other platform could top Basecamp 2 for now for us.
ResourceGuru
After a few years working remotely, we felt like we needed to have a holistic view of everyone's workload. While Basecamp has the calendar feature, there are no options to allocate everyone's working hours and the amount of available hours every day for everyone. So we were on a hunt for a platform which could do this for us.
Enter ResourceGuru, which was recommended to me by Brett Harned after I did a little #lazyweb asking on Twitter. Internet is so wonderful.
Bitbucket
For the programmers, we signed them up to Bitbucket, a system for hosting version control repositories.
As we work with multiple clients and thousands of lines of codes for every project, Bitbucket helps code management as it changes over time. It allows past versions of the project to be saved in case new changes break things. It also has quite a few other features and is often quite complex but as a simplification you can think of it as a way to backup code and share it between different people the team.
Google Apps
We run Gmail as our email host, we are also on Google Apps. With the myriad of products, we found ourselves creating spreadsheets, write-ups and presentation slides and just sharing the files across the team by notifying them through the email. We can also share the links with anyone outside the team, with the option to either view, edit or both.
So instead of scouring through our folders looking for the documents, we can just enter the keywords inside Google Drive search and find our documents easily.
Other tools
4. Process
More so than processes, we shall treat this as how we work and what have we learned from the years of running a remote team. Having a process in place is good to make sure that there are organisations in the team. They are bound to change so most of the time we tweak these proc — I mean, how we work — in order to suit our team.
Checklist checklist!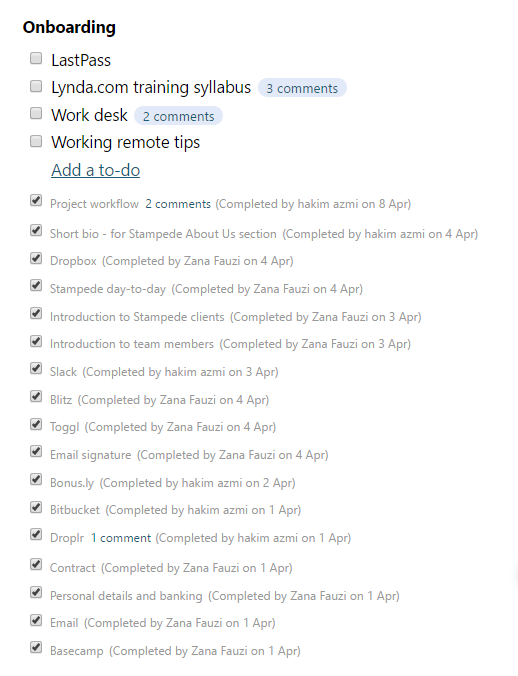 We have a list for everything – onboarding, internal review, client review (we even train clients to do this too so it will be easier for them to keep track), ideas and many more. Thanks to Basecamp 2, it makes it easy to list down and document as many ideas and processes as possible, so we will always have our thoughts written down.
Automation
Whenever possible, we automate a lot of things. On top of saving time, it can also save cost since we can keep our team small without having to hire someone to do multiple tasks. It also keeps our team members focused on their work since we do not have to go to meetings all the time or manually fix lines of codes which could be done globally.
A culture of accountability
Deciding on keeping the team small and focusing on more meaningful projects, we decide to assign team leads for projects. This way, the team lead will be responsible to foresee the success of the project from start till finish. Once the projects are signed off, the team leads and their team members are properly celebrated (usually involving food). This could also nurture the sense of leadership and time management in all our team members, whichever our role is.
Training and sharing sessions
In the spirit of encouraging everybody to their best potentials, we decided to get everyone a Lynda.com account and devise training goals and a training syllabus based on everyone's needs and skills. The results shall be assessed in a series of questions, scenarios and presentations. While we do have training goals for each team member, these sessions are held light-heartedly and often end in a high note.
Culture
Culture is the highest priority for us when it comes to running the team. When hiring, we often make sure that the new guy/girl will have a good cultural fit with us. That being said, more so than expecting them to blend in, we also provide a fun and a safe environment for them to be successful, fail and be themselves.
Happy Things: Weekly sharing session where we would all share what makes us happy and grateful for the previous week
Constructs: Useful HTML, CSS and Javascript techniques microblog, ran by Jared.
Curated: A microblog celebrating design, the processes and the people behind it, ran by Zana.
Blog and social media: Everybody is required to write a blog post on a rotation on the topic they are good with. Some of the blog posts had been garnering over 11,000 views so far!
Perks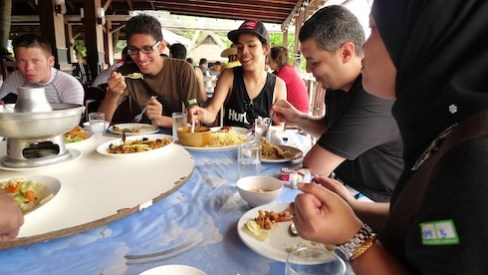 Just like other companies, we offer tempting perks to our team members. The list below is just a sliver of how we reward the team and let them know how wonderful they are.
Gym membership: 3-month gym membership – Shaiful's favourite!
Conferences: Every team member are able to propose any conferences or workshops that they want to attend from the management – and we usually let them go and even pay for them!
2 weeks extra paid leave: Applicable for those who had been with Stampede for over a year.
Yearly get-together: Includes loads and loads of food, jamming session, LAN party and also so much trolling and laughing like no other.
Team vacation: Langkawi! Phuket! Kuala Lumpur!
Conclusion
To be honest, a lot of these were not decided on early — and over the years we are always looking for ways to improve how we run our team. Despite lacking of physical setting, our team members are extremely close knit and with the transparency we practice (this shall be in later blog posts), we often get encouraging feedback on how we should run our team and business remotely better.
So if you ever decide to have a remote working team, keep your mind open always for feedback and suggestions, learn from others and be open to experiments! Good luck!