While startups offer some of the most exciting and rewarding opportunities for UX designers to fully execute their craft, they also represent some of the most challenging environments in which to achieve success due to their fast-paced and bootstrapping nature.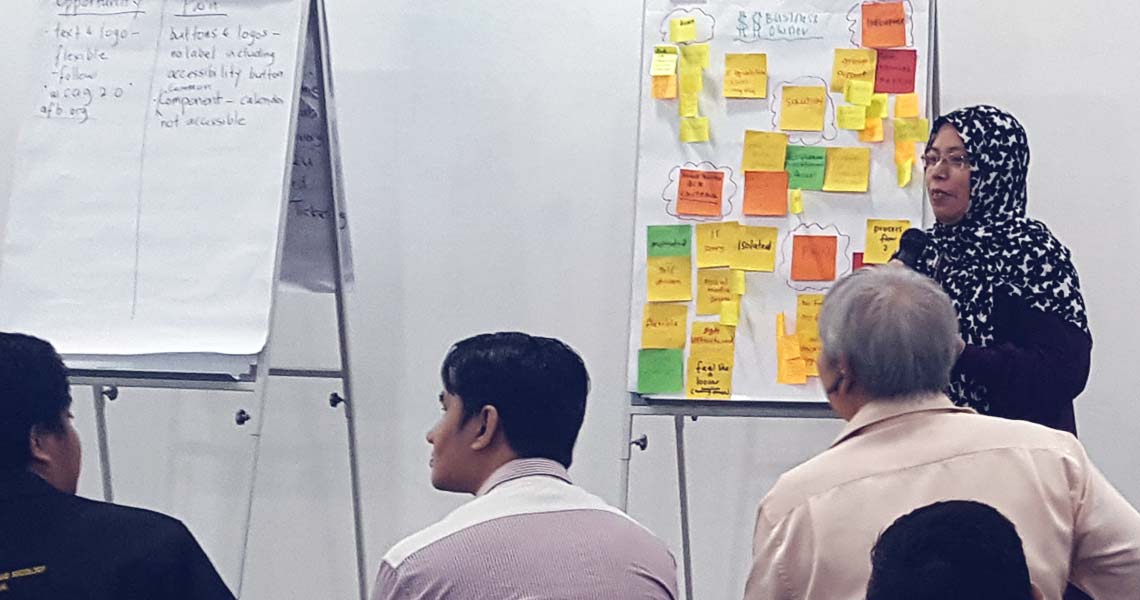 You really need make sure the product principles are right from the start.
User Experience, as we all know inherently sits at the nexus of Development, Design, Marketing, Business and Leadership in a business – and we could couldn't help wondering where UX fits in startups life. It is necessary, but UX research and processes do take time, and startups daily life tend to be very hectic to give room to these exercises.
Who better to speak to than Linda Rasip, CTO of Aleph One as well as a good friend of ours. With about 15 years of experience under her belt, she's worked on different platforms like Joota.com (social content curating platform), Halal Speed Dating, Purelyb, iResidenz and Jooblii (an e-commerce site).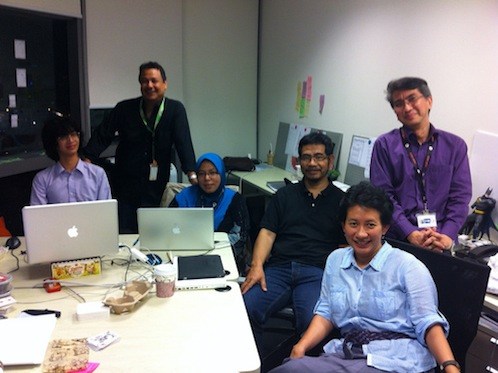 Linda and her Joota team in the early years!
Having to address many technical and user challenges pertaining to infrastructure and development, Linda is perpetually positive and fascinated by the endless changes that the industry often goes through, and she enjoys the process and challenge of learning new things.
We decide we should take the taxi to her house and pick on her brain.
Hi Linda! Thank you for making your time for this interview. To start, in order to understand how UX would fit in startups and entrepreneurship, we often go through the four stages of startup maturation cycle – formation, launch, growth and expansion, and version 2.0 and beyond. Understanding the fact that these stages vary for a number of startups, when do you think is the best stage for User Experience to fit in?

Good to see you, Zana!

I guess it depends on the goal of the startup by itself. For example, visual-driven startups like Piktochart and InVision, would need user experience locked down from the start. They do not need to have designated UX Designers for this, sometimes in the midst of bootstrapping, the founding team would do most of the tasks.

Also, many people would confuse UX and design by itself. Even from formation phase, you need to be able do comprehensive user experience – for example, when MaidEasy first started, the most functionality they needed was a booking form, so that was what they focused on what user wanted there. That's how focusing on user experience is like.

With the fast-paced environment in startups, how should UX processes adapt and get the best value for the investment?

We all know startups, especially early in the formation phase, don't really have the capital or luxurious schedules for UX processes. But UX design is not something you want to skip if you want to make it big in the market, in fact, it is really important.

Enter Lean UX. It focuses on getting feedback as early as possible so that it can be used to make quick decisions.

Lean UX cycle, focusing on getting feedback as early as possible

Lean UX works very well for startups ecosystem because it doesn't focus on requirements, but instead on problem statements, which should lead to a better product that users want to actually use. The focus is on creating Minimum Viable Product (MVP), building the most basic version for the concept as possible, test and polish the design from there.

So in turn this maximises your resources and minimizes your time in perfecting the product – and in turn, users would want to use the product even more as their feedback are taken care of.

In conclusion, you really need make sure the product principles are right from the start. What should be the intended experience that user will take from your apps? Design in phases while move through one objection.

To some startups, UX may be delegated to a little more than an afterthought – last item in their growing list. How do we include UX in the earlier phase before bringing in UX talent at a later stage?

To be honest, startups are going to need UX sooner or later in their startup phase. It is not something that can be an afterthought.

If startups already have an existing product, one way to make UX inclusive then it is good to take a look at analytics to find out what can they improve from there. Otherwise, if it is from scratch, presenting on a use case basis is a good start. A lot of startups have problems because they focus on coding from day one, instead of focusing on users.

Entrepreneurs need to have a basic UX design knowledge in order to make it bigger in the wild too. User experience lets you connect with your eventual users and customers, improves your ability to communicate with your employees, improves your hiring process – this is extremely important as startups need someone who share the same drive and passion as you and also, it builds better teams, as in a fast-paced environment, the founders need to know what keeps your teams happy.

Speaking of making teams happy, how will including UX processes improve the dynamics of the team internally?

User experience is what internal and external parties see. If we include all processes and everyone from the start, they can feel the involvement and are more motivated because they are part of the team. You are more likely to build cooperative teams that are fully engaged in the design process, rather than a silo organisational chart that divides everyone and hindering development efforts.

When we were in Joota, in order to get everyone to be in the character for the product, we assign one persona per one employee. In the end, assuming the user persona results in a comprehensive customer journey, complete with pain points and all. Good times.

What sort of opportunities can startups offer UX talents?

You will get to gain more experience, if you are into it.

Your work will not be just within your scope – because startups are mostly bootstrapping, so you get to do more, learn more and push more beyond your boundaries. Compared to if you are employed in MNCs, you get to only do your part, so your learning opportunity is not so much.

In return, you also need to be prepared to give more.

What real-life challenges do you think UX talents need to be ready to embark on a career with startups?

Do a lot of homework. Get ready to do more critical thinking. Approach problems as many perspectives as possible. Work fast. Essentially, we need both a Thinker and a Doer.

In many cases, user experience can be a major disruptor to your career as a designer. There is also a lot of leadership opportunities you'll have to educate people about user experience and communicate its benefits. And people won't really believe in the value that User Experience provides until they see it, so that means you have to show them.

Fresh grads do not normally sustain in startups although they have the passion and the vigour. They are still in the transition from the chilled life in education to intense real life, and there are many instances they are not brave enough to push the boundary.

However, in isolated cases, there are some who are very determined – and they are good fit for startups.

With these in mind, do you have any advice to UX talents looking to join startups?

Don't stop learning. Be very very curious about the workings of nearly everything, because in startups, you will need to see a lot of things as broken and you will need to always be fixing them.

Startups are in the constant state of change – so you need to have a backup plan in case it doesn't work. Not to scare you, but it polishes your skill of planning and critical thinking. In the end, you get to contribute to be in full engagement with your craft, as in startups, you have a higher degree of collaboration.

In the end, do not be afraid to make mistakes. You'll never know how far you will go if you have never made any mistakes.

Always inspired to talk to you, Linda! Thank you so much for your time!

Thank you for having me Zana!
Startups represent exciting opportunities for UX professionals to practice their craft and directly mold an exciting product or user experience. In startups, UX designers also get to hone their skills in being a leader and help a startup to successfully evolve and mature their internal processes.
We thank Linda for her time and her invaluable insights about practicing UX in startups. If you would like to speak to her, you may contact her through email or Facebook.
(P/s: Linda is also nominated as one of the Developer Heroes in Rice Bowl Awards – vote for her!)