It is here again. It is hard to doubt that The FIFA World Cup is the quadrennial event everybody looks forward to. Whether you are a football fan or not, the passion is just infectious. Held in Brazil, the largest country in both South America and the Latin American region this year, it was voted as the greatest World Cup ever in the tournament's history by BBC Sport readers.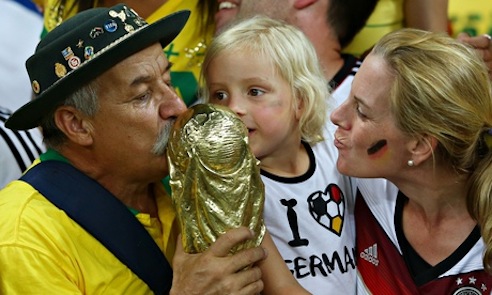 Here are some highlights from the eyes of Stampede's two biggest football fans, Iwan and Shaiful.
Iwan
Most High Tech World Cup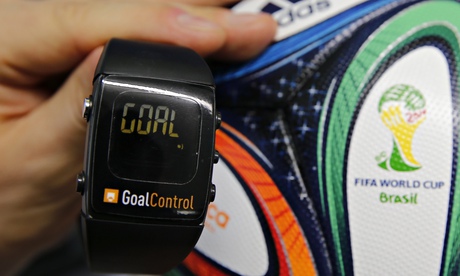 Referees will have GoalControl watches in Brazil. Photograph: Wolfgang Rattay/Reuters
This is the first World Cup featuring goalline technology that helps deciding the goal. FIFA approved 4 kind of goalline technology to be use in World Cup 2014. They involve camera and chips embedded in the ball itself which uses the magnetic field sensor for detecting goals. While using camera is just as simple as watching replay, embedded chips come quite handy as well. FIFA also equipped referees with smartwatches that not only tell time, but will buzz when the ball crosses the line.
Another high tech gadgets is the ball itself. "Brazuca" is designed from scratch, thanks to 2010's "Jabulani" failure.
Luis Suarez's Choppers Strike Again
Looks like he didn't learn from the past because Luiz Suarez bit again. Doing the offence for the third time this time, Suarez decided to bite on Italian defender, Giorgio Chiellini's shoulder. While no actions were taken on the field, he was found guilty by FIFA and currently serving a ban for nine Uruguay matches and from all football activities for four months. He also apologised for the bite. Despite this biting saga Barcelona still signed him from Liverpool with a fee believed to be staggering 80 million euros. That's 14 million less than Real Madrid paid for Christiano Ronaldo's signature on June 2009. Crazy!
Neymar Jr's injury
There is no doubt Neymar was Brazil's best player throughout the World Cup 2014. Unfortunately, during the game where Brazil played against Colombia on quarter final, Colombian defender Juan Zuniga kneed Neymar's back within the last 2 minutes. Nobody expected the worst. He was seen sobbing soon after, complaining to fellow teammate and defender Marcelo that he could not feel his leg. Nursing a broken vertebra, that was the end of his journey for World Cup 2014.
New Scoring Record
There are several records broken during World Cup 2014. On top of the order is World Cup's all-time leading scorer. Owned by Brazil's Ronaldo previously with 15 goals, the Germany veteran, 36 years old Miroslav Klose surpassed him by scoring his 16th goal when Germany defeated Brazil by 7-1 on the semifinal. His own teammate, 24 years old Thomas Müller also make the top ten by 10 goals.
Both have one more game to play on this World Cup – the grand finale – the one we all look forward to.
Shaiful
Spain's Early Exit
They say the bigger you are, the harder you fall. The demise of defending champion and two consecutive European cup holder Spain marked the end of an era for Spanish football. No doubt they still have the same 'dream team' lineup on paper but it's just not working on the pitch anymore this time. The rise and fall of a golden era is not uncommon in the football world with France as another good example. Anyhow, credit where it's due, they held it for 5 years and boy, were they invincible!
Brazil & Germany Making It To The Final Leg
This is a trend that we don't expect to end anytime soon. For every generation of players, these two teams would consistently make it to the playoffs. The squads 'star power' may not be as intimidating as Spain or England but they certainly have proven over and over again that they can score goals. The Germans fielded mostly similar faces from the last world cup except now they have matured and really mean business. And despite Brazil's scorching unearthly defeat by Germany in the semi, we know that it will always be the greatest football nation in the world.
(Update: Brazil, the host team was convincingly beaten by the Dutch in the third-place playoff yesterday.)
It's GER vs ARG tonight. Who are you rooting for?